---
Netflix Soars After Huge Subscriber Beat, Company Projects It Will Soon Be Free Cash Flow Positive
Recent earnings reports from streaming giant Netflix have been a mixed bag: the company missing badly a year and a half ago when US subs declined while forecasting the first annual drop this decade, then smashing expectations a little over a year ago, then beating expectations four quarters ago but disappointing in its guidance, then smashing expectations with a blowout first quarter half a year ago in which it added a record 15.8 million subs thanks to covid, but once again offering a surprisingly muted outlook for a post-covid world, then tumbling two quarters ago when the company reported earnings for its first full "post Corona" quarter and warned that "growth is slowing", before plunging last quarter when the company reported a huge miss in both EPS and new subs, which at 2.2 million was tied for the worst quarter in the past five years, while also reporting a worse than expected outlook for the current quarter, investors were on edge today to find out not whether the company would beat or miss expectations, but rather if Netflix, remains a pandemic-proof company and if the slowdown Reed Hastings warned about is for real and has pulled forward even more subscribers due to covid?
To be sure, despite medicore at best earning, the company has been riding a wave of optimism, its stock soaring in early 2020, putting it in the top 20 for S&P 500 companies, similar to the gains seen by other shutdown beneficiaries Amazon.com and Ebay. Still, after surging to a record high in early July, the stock has traded rangbeound, unable to break out to a new high. And while there's no doubt that viewership has surged during the Covid-19 lockdowns in the U.S. and much of the world, there are complications: the virus has brought TV and film production to a halt, a situation that may only get more dire for Netflix as the months wear on. But the biggest question remains how many future subs has covid brought to the present?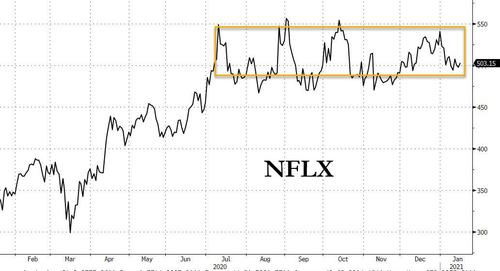 Indicatively, consensus expects 6.1 million new subs this quarter, higher than the company's own guidance of 6 million, and a big rebound from the mere 2.2 million new subs added in Q3. Revenue is expected to come in at $6.63BN, up from $6.44BN in Q3, and resulting in EPS of $1.39, down from the $1.74 last quarter. This is as streaming video remains on a hot streak since the pandemic struck. Something else to watch: Netflix bears will get added ammunition if 1Q guidance misses consensus for 7.45 million new users.
At the same time, the world's largest paid streaming service is also facing more intense and cutthroat (or rather cut-price) competition than ever. Comcast's Peacock platform has been rolling out for a few months, along with the short-form video service Quibi. And AT&T's big bet on streaming, HBO Max is also up and running now while Disney+ has been a massive hit.
Bloomberg notes that in the all-important Netflix subscriber guessing game, the web traffic research site SimilarWeb suggests the service averaged about 1.5 million new subscribers globally per month in Q4. That's below the 6 million target the company has given and down from Q4 2019. On the plus side, SimilarWeb notes, subscribers have been rising each month in the quarter and are up sharply from the disappointing Q3.
Meanwhile, as Bloomberg notes, with ViacomCBS announcing today that its new Paramount+ streaming service will launch March 4, it's worth a closer look at Netflix's movie strategy. The streaming business was built initially on the appearance of other people's films, including all those blockbusters Disney used to license them. Paramount+ adds yet another big studio to the list of those with its own streaming service.
So was Q4 the quarter that would finally unleash another repricing higher for Netflix stock, or has the triple top telegraphed pain ahead?  Well, the bulls may have finally lucked out, despite a bit of a heart attack initially, because after Bloomberg first reported a miss in EPS sending the stock sharply lower first, it then reported a huge beat in Q4 subs... even if it still predicted a far lower than expected subscriber print for Q1 2021. Here are the details:
Netflix 4Q EPS $1.19, Est. $1.38
Netflix 4Q Rev. $6.64B, Est. $6.63B
This is the data that hit first and sent the stock lower, but it was quickly followed by the catalyst behind the sharp reversal higher in the stock, namely the 2.5MM beat in Q4 paying subs:
Netflix 4Q Streaming Paid Net Change +8.51M, Est. +6.06M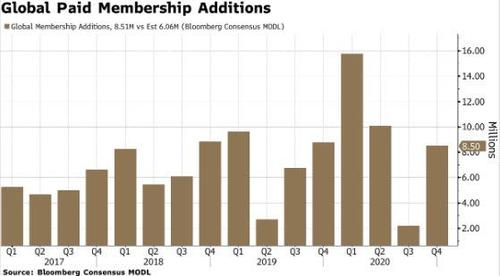 Netflix's average paid subs rose 23% Y/Y in Q4, beating its own projection of adding 6 million subscribers by 2.5 million: "We're becoming an increasingly global service" with 83% of paid net subscriber additions in 2020 coming from outside the U.S. and Canada", NFLX said.
The number of new subs was good enough to allow investors to quickly ignore the disappointing Q1 outlook of just 6.0 million subs (more below), well under the 7.45MM expected:
Netflix Sees 1Q Streaming Paid Net Change +6.00M, Est. +7.45M
And some more details on the outlook:
Netflix Sees FY21 Operating Margin 20%
Some more Q4 stats:
UCAN streaming paid net change +860,000 vs. +180,000 q/q, estimate +430,620
EMEA streaming paid net change +4.46 million vs. +760,000 q/q, estimate +2.56 million
LATAM streaming paid net change +1.21 million vs. +260,000 q/q, estimate +1.21 million
APAC streaming paid net change +1.99 million, +97% q/q, estimate +1.82 million
Streaming paid memberships 203.7 million, +22% y/y, estimate 201.2 million
Operating margin 14.4% vs. 20.4% q/q, estimate 13.4%
Operating income $954.2 million, -27% q/q, estimate $891.5 million
Negative free cash flow $284 million vs. positive $1.15 billion q/q, estimate negative $128.8 million
Here is the full breakdown: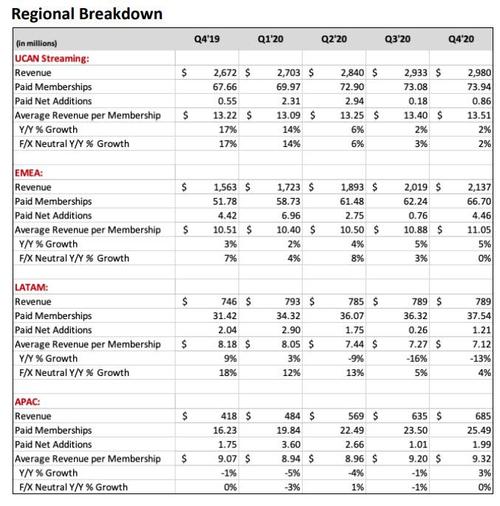 By adding 8.5 million subs, Netflix has crossed the 200 million paid memberships mark. For the year, Netflix added a record 37 million paid subscribers, and generated a record $25 billion in annual revenue (up 24% year over year) and increased operating profit 76% to $4.6 billion.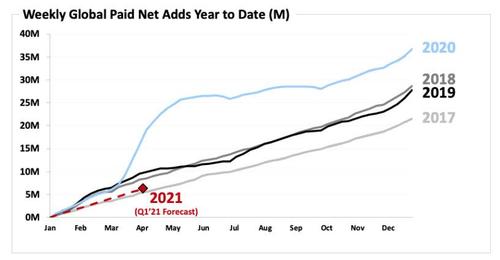 And the full forecast: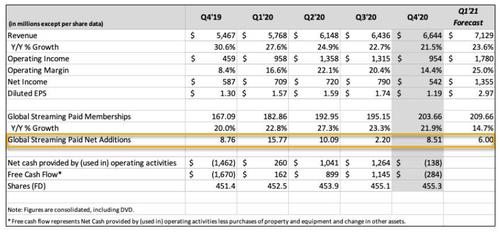 But while the company's subscriber outlook was disappointing it was more than offset by a surprising addition to the letter, namely that "combined with our $8.2 billion cash balance and our $750m undrawn credit facility, we believe we no longer have a need to raise external financing for our day-to-day operations."
This is a huge development for a company which until a year ago hadn't had a cash flow positive quarter since 2014 (although it once again begs the question how much of this is based on optimistic assumptions about continued WFH growth).
This is what the company said about its forecast:
For Q1'21, we expect paid net adds of 6.0m vs. last Q1's 15.8m, which included the impact from the initial COVID-19 lockdowns. Since the start of 2018, our paid memberships have risen from 111m to 204m and our average revenue per membership has grown from $9.88 to $11.02, despite significant F/X headwinds. This approach has allowed us to organically increase revenue by $4-$5 billion annually over the past several years.

We've made good progress growing our profitability with FY20 operating margin of 18% rising five percentage points over prior year. For FY21, we're now targeting a 20% operating margin, up two percentage points from 2020 and higher than our previous 19% forecast, due to a more favorable revenue outlook. As we said last quarter, we intend to continue to grow our operating margin each year at an average rate of three percentage points per year over any few-year period, but we anticipate some lumpiness. Some years we'll be a little over (like in 2020), some years a little under (like in 2021), but we are trying to keep on an average three percentage points per year long-term trajectory.
The cash flow positive forecast came at a good time: just as the company announced that net cash generated by operating activities in Q4 was -$138 million vs. -$1.5 billion in the prior year period, while free cash flow (FCF) for the quarter dropped to -$284 million vs. -$1.7 billion in Q4'19, but sharply below the $1.145 billion positive FCF in Q3, bringing full year 2020 free cash flow to +$1.9 billion vs. -$3.3 billion in 2019.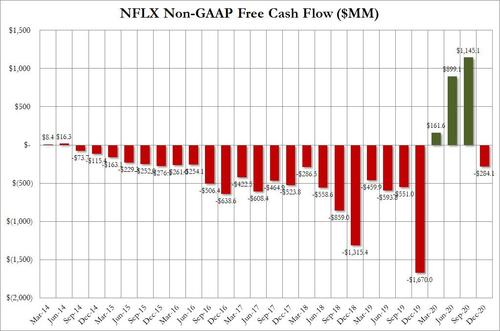 But, more critically, NFLX believes it is "very close to being sustainably FCF positive" and For the full year 2021, NFLX anticipates free cash flow will be around break even (vs. the prior expectation for -$1 billion to break even). That, as Bloomberg writes, "ought to put an end to bears' concerns about endless cash burn, especially after $3.3 billion in 2019 free-cash-flow losses."
There was more: the company said that as it generates excess cash, it intends to maintain $10B-15B in gross debt and will explore returning cash to shareholders through ongoing stock buybacks, as we did in the past (2007-2011). It was unclear if it would also buy some bitcoin...
Content wise, there were few surprises, at least for those who watch NFLX:
In scripted English language television, season four of the critically acclaimed The Crown was the biggest season so far and drove new watchers of prior seasons. In its first 28 days, more member households chose to watch season four of The Crown than each of the prior seasons, helping to grow the number of member households that have chosen to watch this series to over 100m since its initial launch. In late December, we released our first original series from Shonda Rhimes, Bridgerton. This title has proven immensely popular and we'll have some exciting news about Bridgerton later this week.

Our largest original film of the quarter was The Midnight Sky, starring and directed by George Clooney; we estimate 72m member households will choose to watch this title in its first four weeks. In its first 28 days, 43m member households chose to watch our animated feature film Over the Moon (directed by legendary creator Glen Keane) with high levels of rewatching. We Can Be Heroes (directed by Robert Rodriguez) was another successful family film with a projected 53m member households choosing this title in its first four weeks.
Of course, it's not all smooth sailing as Netflix will soon start to face extremely tough comps of its blockbuster 2020, coupled with cutthroat and price-cutting competition. This is what NFLX said about the competition, and how it dismissed this ever greater threat:
It's a great time to be a consumer of entertainment. There are a wealth of options ranging from linear TV to video gaming to user generated content on YouTube and TikTok. We continue to work hard to grow our small share of screen time against these major competitors.

Discovery recently launched its streaming service. Disney+ is expanding in new countries and with more content. ViacomCBS will be unveiling its plans for Paramount+ in 2021. Combined with the launch of AppleTV+, WarnerMedia's HBO Max, and NBCUniversal's Peacock streaming services, this signifies that these companies all recognize the future is streaming entertainment, a vision we have been working towards since inception.

Our strategy is simple: if we can continue to improve Netflix every day to better delight our members, we can be their first choice for streaming entertainment. This past year is a testament to this approach. Disney+ had a massive first year (87 million paid subscribers!) and we recorded the biggest year of paid membership growth in our history
NFLX company took a victory lap for Queen's Gambit:
Not only did 62m member households choose to watch The Queen's Gambit in its first 28 days (making this show our biggest limited series in Netflix history), but it ignited sales of chess sets and inspired the next generation of chess prodigies
Netflix also said that its series accounted for nine out of the 10 most searched shows globally in 2020, while its films represented two of the top 10.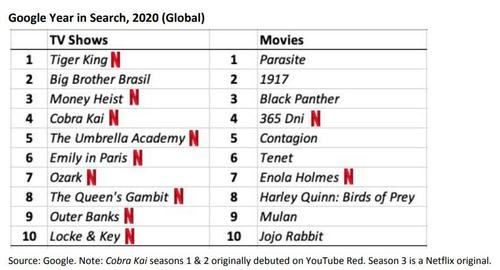 Netflix also tried to assuage investor concerns that the pandemic will slow its productions. From the investor letter:
"Our productions are back up and running in most regions - we have learned that flexibility and adaptability are paramount in this fast-changing environment. With over 500 titles currently in post production or preparing to launch on our service and plans to release at least one new original film every week in 2021 with extraordinary talent, we're confident we'll continue to have a great content offering for our members."
The result: between the strong subscriber beat and the company's forecast that it will soon be cash flow positive going forward, NFLX stock has exploded higher, and at last check was about 10% higher trading just above $550.