---
New Home Sales Unexpectedly Surged In April As Builders Slashed Prices
After existing home sales declined in April (and mortgage rates rebounded notably), expectations are for the incentive-driven surge in new home sales to slow (from +9.6% MoM in March to -2.6% MoM in April), but instead new home sales surge 4.1% MoM (thanks in large part to a notable downward revision from +9.6% to +4.0% MoM in March)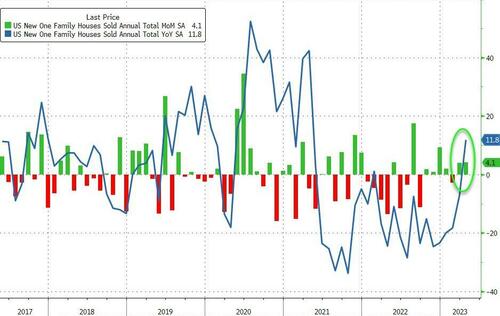 Source: Bloomberg
That jump pushed new home sales up 11.8% year-over-year with sales at their highest SAAR since April 2022...
Source: Bloomberg
Finally, don't hold your breath for this rebound to last as mortgage rate have pushed back above 7.00% this week...
Source: Bloomberg
Supply continues to contract (some might say 'normalize'). There were 433,000 new homes for sale as of the end of last month, the lowest since April. That represents 7.6 months of supply at the current sales rate...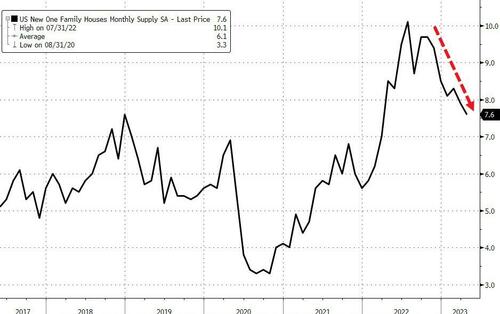 Source: Bloomberg
As CNBC noted "it's all about incentives." as prices were slashed: Median new home price fell 8.2% y/y to $420,800; average selling price at $501,000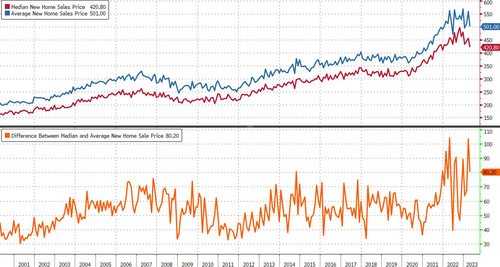 Will this please Powell?
Loading...