---
New Jersey Asks Residents To Reduce Water Usage Over Drought Fears
New Jersey Governor Phil Murphy's office asked residents and businesses to conserve water amid a persistent heatwave, where some metro areas cracked over 100 degrees Fahrenheit for five consecutive days through Sunday. 
"Now is the time for New Jersey to be especially mindful of water usage and proactively moderate our consumption," said Commissioner of Environmental Protection Shawn M. LaTourette.
"Although our reservoirs and other indicators are healthy, persistent hot and dry weather coupled with the high water demands of summer can quickly impact water supply. Simple steps, like reducing lawn and landscape watering, go a long way in preserving our water supplies and avoiding the necessity of significant restrictive measures," LaTourette continued. 
For the last three months, rainfall has been 11% to 25% below average in the state's south and north -- the combination of below-average precipitation plus excessive temperatures paints an ominous outlook. 
The US Drought Monitor website shows a considerable amount of the state is "abnormally dry."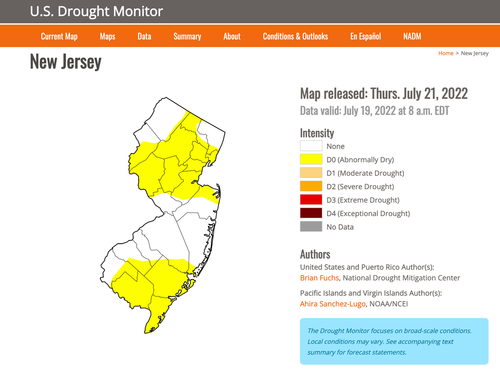 Even though officials stopped short of issuing strict conservation measures, the request to reduce water demand signifies that California-style water restrictions could be next. Then could 'water cops' patrol the streets? 
Loading...