---
New York City Targets 100% Renewable Electricity By 2025
Mayor Bill de Blasio - having solved all other problems in the city related to the pandemic and the recent outburst of violent crime - has shifted his focus making sure the city is going to be 100% run on renewable electricity by 2025. 
Yesterday, as if the cost of living wasn't skyrocketing enough for NYC citizens, the city announced that it had signed "a letter of intent in partnership with the New York State Energy Research and Development Authority (NYSERDA) committing the City to pursuing a joint purchase of large-scale renewable source of electricity delivered to the city, which could include Canadian hydropower to the extent selected or its equivalent," the city said in a statement.
The statement continued: "This joint purchase, which will power City government operations with 100 percent renewable electricity by 2025, will provide additional value to disadvantaged and energy burdened communities as well as all residents of the State, and be a dramatic step forward as part of the City's comprehensive climate mitigation strategy to ensure the City makes a just transition to a clean energy economy."
De Blasio commented: "Clean energy is directly linked to a fair recovery" (whatever that means), continuing, "It's about investing in our future and our frontline communities. Today we're taking major step forward to secure renewable energy for New York City and power our government with 100 percent renewables by 2025."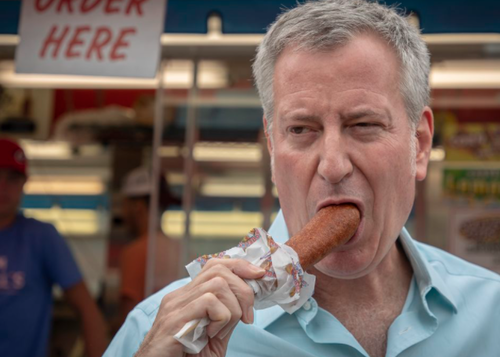 Doreen M. Harris, President and CEO, NYSERDA commented: "NYSERDA's Tier 4 solicitation is designed to increase the amount of renewable energy delivered into New York City and direct significant benefits to those in the state's most disadvantaged communities. We welcome the opportunity to share in the cost-effective procurement that will be realized due to the substantial level of competitive interest seen by the initial private sector response. We appreciate the City's focus to align with the state's work in reducing carbon emissions from its operations and recognizing the important value a joint purchase would bring to all New Yorkers."
The release reads:
The letter of intent lays out the parameters the City will take into consideration prior to entering into a long-term agreement to purchase Clean Energy Standard Renewable Energy Certificates ("RECs") associated with the delivery of renewable energy into Zone J of the New York Control Area. 

The City intends to purchase a sufficient quantity of RECs to secure 100% of its energy needs from renewable resources while preserving the ability to engage in deep energy retrofits, other energy efficiency measures and the deployment of renewable distributed energy resources.
The release says that the program "has set ambitious and aggressive goals for confronting our climate crisis, ending the age of fossil fuels, and securing a livable climate for the next generation".
Ben Furnas, Director of the Mayor's Office of Climate and Sustainability, said: "This is the electricity of the future, and it can't come soon enough. With this commitment to vastly increase the supply of renewable electricity to New York City, we will clean our air, correct injustice, and race towards a future beyond fossil fuels. Thank you to NYSERDA for their partnership as we work together to build a safer, cleaner, fairer energy system for New York."
While we're hardly power generation experts, all we have to say is: good luck running New York City off of hydroelectric power from Canada at efficient prices.
We find it way more likely that this will just be another reason for current New Yorkers to eventually head out of the city, and down to Florida, once costs from this incredible "project" eventually materialize - that is, if this letter of intent winds up materializing at all to begin with.