---
Nightmare At Sea - Japan Discovers 42 Additional Coronavirus Cases On Quarentined Cruise Ship
Update (1945ET): In somewhat shocking news as Japanese markets open, TBS News reports 42 additional cases of coronavirus have been discovered on the Diamond Princess cruise ship which is anchored in Yokohama, Japan.
【速報】横浜に停泊中のクルーズ船内に新たに41人の新型コロナ感染者 厚労省 #指定感染症 #感染症 #新型コロナウイルス pic.twitter.com/nnFZAnSQnb

— TBS NEWS (@tbs_news) February 7, 2020
Japan says 273 people on the cruise ship were tested and 61 were found positive, and the 41 new patients have been sent to hospitals in 5 separate prefectures.
*  *  *
Update (1600ET): Japan has reportedly forced a second cruise ship to submit all of its passengers and crew to testing for the coronavirus after several dozen crew members exhibited symptom.
Japanese PM Shinzo Abe said no foreigners on board the MS Westerdam, run by Holland America Liner, would be allowed to disembark in Japan. The ship is capable of carrying 3,000, but it's unclear how many are on board. Passengers on the Westerdam say the ship has already been refused entry to the Philippines and Taiwan over the virus fears.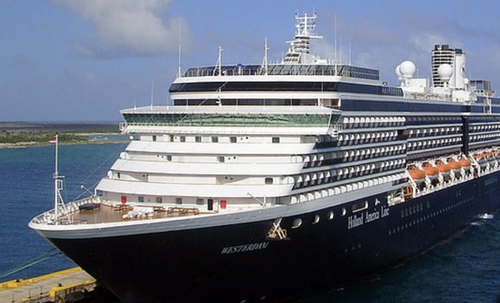 Stephen Hansen, one tourist onboard the ship, has express concerns that the ship could be quarantined for two weeks.
In its most recent update, the cruise operator said passengers would now be disembarking in Yokohama rather than in Shanghai as originally planned/ But Japan appears to have wrecked those plans today by announcing that it wouldn't allow any passengers to enter the country.
Holland America has been "closely monitoring" the "coronavirus situation" as more travel and leisure-related companies are being impacted by the drop in travel and leisure spending.
"Our medical experts are coordinating closely with the U.S. Centers for Disease Control and Prevention (CDC) and the World Health Organization (WHO) to implement recommended screening, prevention and control measures for our ships," said an earlier statement. Guests visiting our onboard medical centers for respiratory illness will be evaluated for coronavirus. Robust environmental disinfection onboard will be performed in addition to our regular stringent cleaning and sanitation protocols."
A total of four cruise ships have now been held up because of sick passengers.
* * *
Thousands of people are trapped on two cruise ships where coronavirus is quickly spreading. Already, tests are coming back positive, with more expected in the coming days. 
More than 7,300 people have been quarantined on two cruise liners, one off Japan and another off Hong Kong, for fears that the deadly virus has infected passengers and crew. 
20 coronavirus infections have been confirmed on a cruise ship in Japan as thousands remain under quarantine on the vessel. pic.twitter.com/gHAKwlF5OE

— SCMP News (@SCMPNews) February 6, 2020
A total of 3,700 passengers and workers are quarantined on Princess cruise ship, owned by Carnival Corporation & plc., which is moored off Yokohama, Japan. 
Twenty passengers have already tested positive for coronavirus, with more expected to test positive in the coming days. 
Infected passengers include three Americans, two Australians, seven Japanese, one from Taiwan, two Canadians, one New Zealander, and three Hong Kong citizens. One Filipino crew member is also sick, Carnival said in a statement. 
Japan's Health Ministry said a total of 20 had been infected with the deadly virus on the vessel. It said the rest of the passengers would remain in quarantine for two weeks. 
The second ship is the World Dream, a cruise ship operated by Dream Cruises, currently moored in Hong Kong's Victoria Harbor as a precautionary measure. All 4,000 passengers are undergoing testing after three former passengers tested positive for coronavirus. 
Cruise ship under quarantine in #HongKong, tests for #coronavirus conducted as 30 crew members have fever

MORE: https://t.co/iWzBdY6Aeq pic.twitter.com/6dukgLrwfB

— RT (@RT_com) February 6, 2020
Edith Poon, a spokesperson for Genting Hong Kong Limited, the holding company that owns Dream Cruises, confirmed that 30 crew members had symptoms of the virus. 
"We are currently waiting for the results to come in," Poon told USA TODAY. "Upon availability of the results, we shall comply with the Department of Health's instruction on the next step forward. Until then, as advised by the Department of Health, all passengers of the cruise ship are to remain on board."
Last week, there was a false alarm aboard the Costa Smeralda, when a female Chinese passenger displayed symptoms of the deadly virus. The ship was in quarantine off the coast of Italy, while health officials conducted tests. It was later discovered she had the "common flu," and the ship was allowed to embark on the rest of its journey.