---
"No End In Sight": Stellantis Is Latest Auto Company To Report Lost Production Due To Semi Shortage
The Stellantis automotive company was the latest auto manufacturer this week to report a drop in production due to the ongoing semiconductor crisis.
The company said in its report on Wednesday that it lost production of 190,000 vehicles due to the shortage, according to Yahoo. The world's fourth largest carmaker said that 8 of its 44 plants were currently affected by the shortage, ultimately resulting in reductions in shifts and slowing, or shuttering, of vehicle lines. 
Chief Financial Officer Richard Palmer said the impact would be higher in Q2, but also said it "is still very controlled". The company has been making changes to its lineup, including changing the dashboard of the Peugeot 308, to try and adapt to the crisis. 
"We don't have great visibility. As such it would be imprudent to assume the issue is going to go away," Palmer continued, sounding less like the issue is "still very controlled". Bloomberg reported on Wednesday that there was still "no end in sight" for the shortage. 
Stellantis was created out of the merger of Fiat Chrysler Automobiles and PSA Peugeot. "Obviously, we're ramping up, and it's going to take time to realize the full potential of the merger," Palmer commented. "But I think we are very much on track."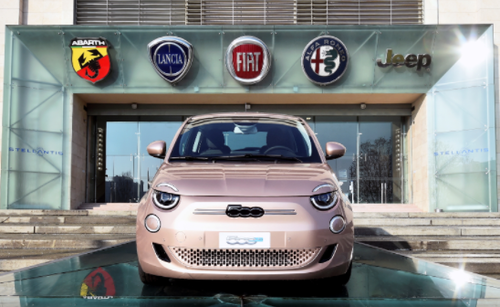 Recall, Intel's CEO, speaking on 60 Minutes Sunday night, said: "We have a couple of years until we catch up to this surging demand across every aspect of the business." Days prior, we wrote that Morgan Stanley had also suggested the shortage could continue "well into 2022". 
"Ford's changed outlook was the first major profit warnings in auto since the worst of COVID," the Morgan Stanley analysts wrote, calling the automaker's report a "bit of a reality check" for investors who have been chasing momentum from OEMs.
Last week, Ford was the latest auto manufacturer to slash its expectations for full year production as a result of the shortage.
Two weeks prior to Ford's report, we wrote about how the chip shortage was becoming a self-fulfilling prophecy, due to a shortage of chipmaking equipment. In the days leading up to that report, we wrote that Taiwan Semiconductor was also warning that the global chip shortage may extend into next year.
In early April, we wrote that U.S. exporters of semiconductor chipmaking tools were struggling to get licenses to sell to China. The U.S. government had been dragging its feet in approving licenses for companies to sell chipmaking equipment to Chinese semi company SMIC, we noted at the time.