---
Norfolk Southern Eliminated Key Maintenance Role In Derailment Region, Union Says
By Rachel Premack of Freightwaves,
One union of rail workers has questioned declining maintenance standards following the Feb. 3 Norfolk Southern derailment in East Palestine, Ohio, which forced the evacuation of the 5,000-person town earlier this month.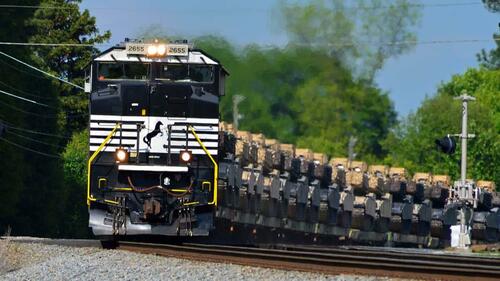 A device that can play a role in preventing derailments is the wayside hot-box detector. It uses infrared sensors to detect bearings, axles or other components of a rail car that are overheating, then uses radio signals to flag rail crews of any overheated components. 
The rail car that initiated the derailment had an overheated wheel bearing, according to a Tuesday report from the National Transportation Safety Board. The NTSB is still investigating the cause of the derailment and will publish a preliminary report in two weeks. 
Wayside hot-box detectors — also called "hot boxes" — are typically placed every 25 miles along a railroad, according to a Federal Railroad Administration (FRA) report. Their use has contributed to a 59% decrease in train accidents caused by axle- and bearing-related factors since 1990, according to a 2017 Association of American Railroads study.
Declining head counts have led to these mechanisms receiving less preventative maintenance, according to an official from the Brotherhood of Railroad Signalmen union. 
The FRA has no regulations requiring the use or maintenance of hot boxes. 
A hot box in East Palestine notified the crew moments before the train derailed, according to the NTSB's report. 
It's unclear if any hot box prior to East Palestine notified crews. A surveillance video shared on Facebook from an industrial facility in Salem, Ohio, about 20 miles from East Palestine, suggests the train's axle was already on fire. 
Norfolk Southern did not respond to a request for comment, and the FRA declined to comment on the record.
From 5 'electronic leaders' to zero in derailment region
Specialized signalmen called "electronic leaders" specialize in maintaining devices like hot boxes.
As recently as three years ago, Norfolk Southern employed five electronic leaders in the area of its rail network that includes East Palestine. Today, it employs zero, according to Christopher Hand, director of research at the Brotherhood of Railroad Signalmen.
The area in question is Eastern Region North – Division B, shown in red on the map. It runs east to west from Mansfield, Ohio, to Harrisburg, Pennsylvania, and north to south from Morgantown, West Virginia, to Astabula, Ohio. It also includes rail track in Pittsburgh, as well as Youngstown, Ohio.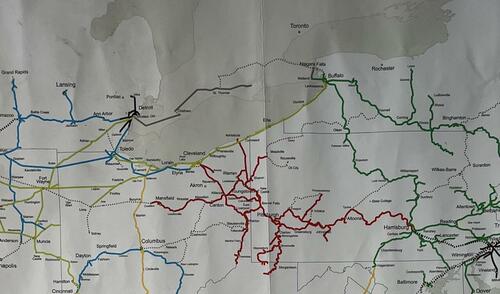 Hand said electronic leaders know hot-box detectors "inside out." But the position, which typically requires years of experience and higher pay, has become less common at railroads across the country. Electronic leaders also taught newer signalmen how to operate devices like the hot boxes.
After that position was eliminated in Norfolk Southern's Division B, Hand said its responsibilities were likely transferred to a signal maintainer. Their main role is to keep up with government-mandated tests of equipment — and hot boxes aren't under federal regulations.  
"Once they eliminated that position, it fell to the signal maintainers who had no knowledge, no training or very, very little training on these hot-box detectors," Hand said in an interview with FreightWaves.
Across the rail industry, Hand said most signalmen are exclusively spending time on these government-mandated tests, rather than doing preventive maintenance, like cleaning and greasing. 
"There used to be something called 'maintenance' and it was routinely maintaining your apparatus — not just strictly going there when you have a regulated test," Hand said.
It's the responsibility of the railroad to maintain the track and locomotives by which railcars move. However, these derailed cars were possibly owned by a leasing company or the actual shipper of the chemicals inside the railcar.
Lobbying efforts to scale back maintenance saved railroads hundreds of millions
Federal regulators have rolled back other rail safety rules. 
For years, the federal government required railroads to conduct a type of brake test on rail cars that had not been operated for four or more hours. As of 2020, rail operators may wait up to 24 hours to conduct this test.
The Association of American Railroads, an industry association that includes Norfolk Southern, lobbied for this change starting in 2017, according to the Federal Register. The FRA estimated that changing this rule would save the rail industry nearly $600 million over a 10-year period.
The Association of American Railroads was also key in rolling back Obama-era legislation that would have required railroad companies to update their braking systems from a 19th-century design to an electronic one, as the Huffington Post reported on Wednesday.
Loading...