---
Nosediving Nasdaq Equity Risk Premium Has Warning For Traders
Authored by Ven Ram, Bloomberg cross-asset strategist,
The risk premium investors demand from technology stocks is now the lowest since the dotcom bubble, underscoring the extent to which valuations have run up this year -- and sending a warning.
The prospective earnings yield on the Nasdaq 100 adjusted for the Federal Reserve's benchmark rate turned negative late last year, with this year's stunning rally taking it further south: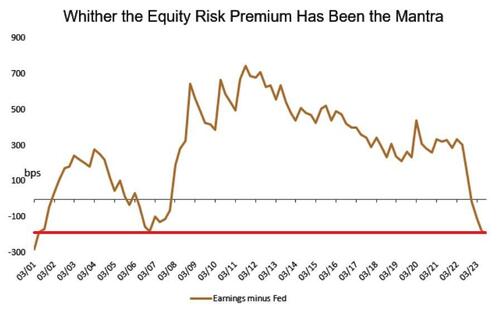 The magnitude of inversion was on a similar scale but less pronounced in the run-up to the financial crisis, and clearly both prior episodes didn't end well for investors.
This time around, the Nasdaq 100 is trading way above its fair value of 12,877 derived by looking at it as a long-duration bond, with this year's gains driven by a handful of stars.
The return from the summer lull hasn't been great so far for stocks, and any hint of disappointing news from the upcoming earnings season may spell a bearish outlook for the remainder of the year.
Loading...