---
"Not A Big Deal"? State Dept Docs Show Amb. Yovanovitch Directly Aware Of Two Burisma Bribe Attempts
Always glowing in her Schiff-protected bubble of virtue-signaling safety, former Ukraine Ambassador Marie Yovanovitch told Congress that she knew little about Burisma Holdings and the long-running corruption probe against the company now so infamously linked to Joe Biden's son Hunter, specifically testifying under oath, "It just wasn't a big deal."
Boom pic.twitter.com/eDtljChtMs

— Quoth the Raven (@QTRResearch) November 15, 2019
Well, according to new memos belatedly released to Just the News's John Solomon, under a Freedom of Information Act lawsuit against the State Department, Yovanovitch wrote top officials in Washington that she feared Burisma Holdings had made a second bribe to Ukrainian officials around the time a corruption probe against Hunter Biden's natural gas employer was closed before Donald Trump took office.
As Just The News' John Solomon writes:
Then-Ambassador Marie Yovanovitch's concerns were first raised in a Ukrainian news story about a Russian-backed fugitive lawmaker in Ukraine, who alleged Burisma had dumped low-priced natural gas into the market for officials near Ukrainian President Petro Poroshenko to buy low and sell high, making a bribe disguised as a profit.

The scheme was confirmed by U.S. officials before Yovanovitch alerted the top State official for Ukraine and Russia policy in Washington at the time, Assistant Secretary of State Victoria Nuland, the memos show.

"There are accusations that Burisma allegedly had a subsidiary dump natural gas as a way to pay bribes," Yovanovitch wrote Nuland on Dec. 29, 2016, noting the story "mentions that Hunter Biden and former Polish President Kwasniewski are on the Burisma Board."

The alert was the second in two years in which the embassy alleged Burisma had paid a bribe while Vice President Joe Biden's son served on its board.

Back in February 2015, then-embassy official George Kent reported to the U.S. Justice Department evidence that Burisma had made a $7 million cash bribe to Ukrainian prosecutors before those prosecutors killed a separate corruption probe in the United Kingdom by failing to produce required evidence.
This was after Trump's election win and just 22 days before President Obama left office.
Of course, this is all in addition to previous memos that revealed Ukrainian natural gas firm Burisma conducted an aggressive lobbying campaign directed at the US State Department throughout the 2016 US election, with the goal of pressuring the Obama administration to lean on Kiev to drop corruption allegations.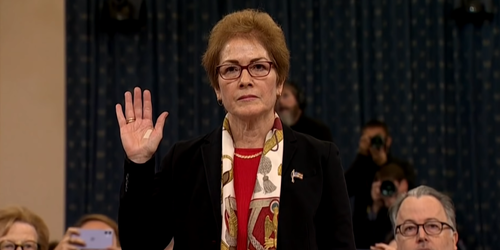 You decide: The Vice-President's son on the board of a foreign energy entity that was implicate not once, but twice, in alleged bribery schemes? Big deal? or "not a big deal"?