---
"This Is Not A Normal Situation": A Semiconductor Rout Is On As Supply Balloons And Demand Dissipates
The memory chip sector, typically a volatile and cyclical sector, is in the midst of yet another rout.
But as Bloomberg noted this week, this rout wasn't supposed to happen. For years we had heard that the sector would eventually calm down and even out - and that volatility wouldn't be as pronounced due to steadier demand for things like 5G and cloud services.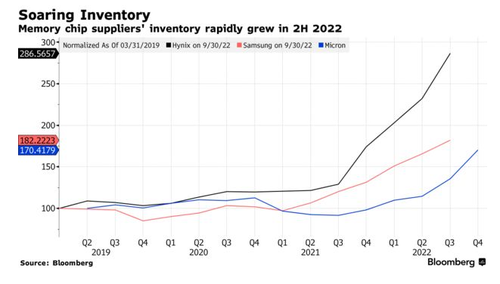 Just months after a historic semiconductor shortage, there's a "glut of the chips sitting in warehouses" at the same time that customers are paring back on orders. We first identified the whipsaw in semiconductors all the way back in October 2022, which you can read about here. 
Avril Wu, senior research vice president at TrendForce told Bloomberg this week: "The chip industry thought that suppliers were going to have better control. This downturn has proved everybody was wrong."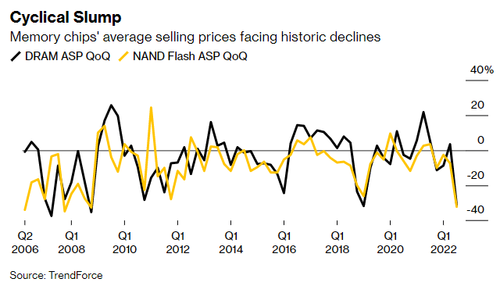 The report notes that the very same consumers who were keen to spend their stimulus money on things like cars and electronics during the pandemic, items which necessitate semiconductors, are now "holding off on big purchases as they cope with inflation and rising interest rates". And the pullback in demand comes just as semi companies sought to increase supply to try and deal with the shortages. 
Companies like Samsung are now "losing money on every chip they produce", the report says. Collective operating losses are projected to hit a stunning $5 billion this year, it continues.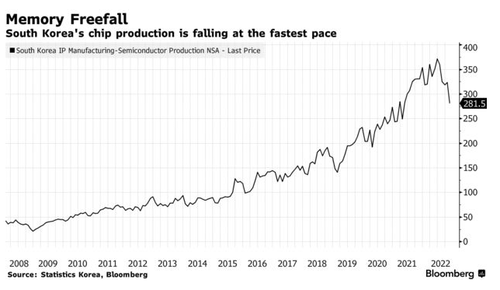 Greg Roh, head of technology research at HMC Investment & Securities, added: "Chip equipment companies' sales are plunging by around 30% to 50%. This is not a normal situation."
"There will be pent-up demand for gadgets as well. Our view is that memory will recover in the second half," he added.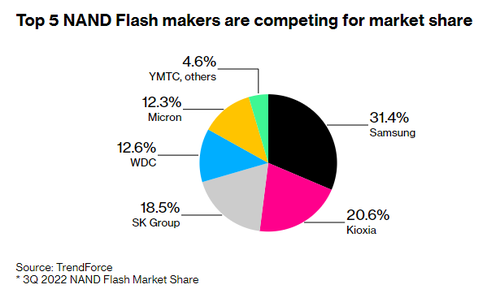 Micron is planning on cutting its budge for new plants and is rushing to curb output. The company's Chief Executive Officer Sanjay Mehrotra sid this week: "We have to get through this cycle. I believe the trend of cross-cycle growth and profitability is still in place."
Just last week, Intel reported terrible earnings and catastrophic guidance as well. As shown below, at the low end of the forecast range, Intel's revenue would be the smallest quarterly total since 2010.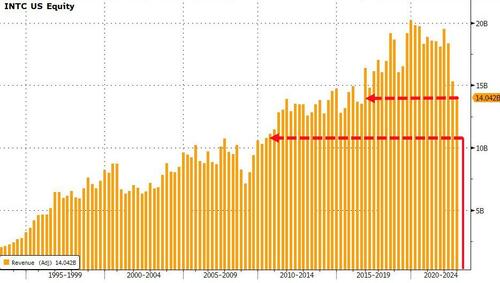 The outlook reflects the myriad challenges facing Intel, which was attempting to stage a comeback even before the market for personal-computer chips — its main source of revenue — fell into a slump. To get back on track, the company needs computer makers to quickly work through inventory stockpiles and return to ordering components. That would provide Intel with a revenue boost needed to help shore up its finances, which were already stretched by ambitious plans to regain technological leadership within the chip industry.
"We've seen extraordinary measures within the memory market. It's at levels that we haven't seen in 25 years," said Lam CEO Tim Archer. 
Shin Jinho, co-CEO of Midas International Asset Management added: "The NAND market is experiencing fierce competition and the recovery will follow one quarter after the DRAM market recovery. If the situation gets longer, eventually, we are going to see consolidation in the NAND market."
All eyes are now on Samsung, Bloomberg says. It'll report on Tuesday this week and will offer additional color on the sector on its conference call. 
Loading...