---
Archegos' Bill Hwang Is A "Backer" Of Cathie Wood's ARK Invest
How surprised would you be if we told you that Bill Hwang, recently best known for being at the helm of a ship called Archegos that ran head first into an $80 billion margin call, also happens to be a mentor to ARK Invest's Cathie Wood?
Now, how surprised would you be if we told you that both Hwang and Wood hold Bible study meetings as part of a "faith in finance" movement - and that this is apparently just one of the ties that binds them, according to Bloomberg?
We weren't that surprised either.
But this is apparently the case, according to a new report profiling Hwang. The report profiles Hwang as a devout Christian, who would gather in his family office's boardroom at 7AM in order to undertake Bible study before the work day. "First might come the Old Testament, perhaps Isaiah or Lamentations," Bloomberg writes. "Then came the New, the Gospels, which called out to the listeners drawn from a path known more for its earthly greed than its godly faith: Wall Street."
The report details that despite his fortune - he is estimated to have been worth $20 billion at one point - Hwang still "rides the bus, flies commercial and lives in what is, by billionaire standards, humble surroundings in suburban New Jersey." To put that in perspective, that would mean that Hwang was worth more than names like Ray Dalio and Steve Cohen.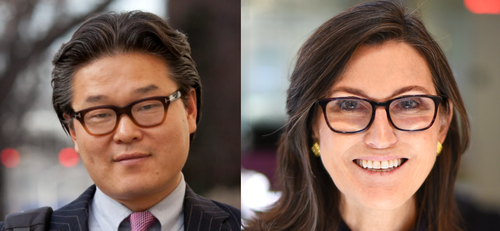 Then, the bombshell. Hwang is "also a backer" of Cathie Wood of ARK Investments, the report says. Wood, like Hwang, also holds Bible study meetings in her office. 
All of Wall Street knows how the story has ended for Hwang: he lost it all at "breakneck speed" after his fund employed leverage with numerous banks, who were eager to take on his "lucrative trading business". His blowup is taking place in the midst of what can only be described as wide-scale mass adoption of Cathie Wood as one of the "smartest" new investors on Wall Street.
It calls into question numerous analogues but begs the larger question of whether or not Wood - who we have profiled extensively and who also appears to be employing riskier tactics of late (buying her own ETFs with other ETFs, rotating out of big tech and into speculative small caps) - could wind up being the next Bill Hwang. Could these two investors be cut from the same cloth in more ways than one?
Also lost in the shuffle about Hwang over the last couple days was the fact that he also blew up while being short Volkswagen in 2008, according to the WSJ. In 2008, Hwang's Tiger Asia "was one of a swath of funds that suffered losses related to the soaring share price of Germany's Volkswagen AG."
Can't make this up: Archegos' Bill Hwang blew up in the Volkswagen short squeeze. His then fund Tiger Asia ended 2008 down 23% due to the squeeze

— zerohedge (@zerohedge) April 2, 2021
When Hwang bounced back from the VW sting, subsequently renaming Tiger Asia to Archegos and turning it into a family office, he sought out help from the big man upstairs.
Hwang said in 2017: "My journey really began when I was having a lot of problems in our business about five or six years ago. And I knew one thing, that this was a situation where money and connections couldn't really help. But somehow I was reminded I had to go to the words of the God."
Hopefully, Wood is more in favor with the man upstairs than Hwang was this year.