---
November Home Sales Suffer Biggest Crash In History
As a historic cold front blankets the continental US - because global warming of course - locking down hundreds of millions, and paralyzing the economy and infrastructure...
Me going outside to get a package delivery. pic.twitter.com/fwauQMZupJ

— Michael Antonelli (@BullandBaird) December 23, 2022
... the only thing that is more frozen is US housing, where according to the latest housing report from RedFin, home sales in November fell 35.1% Y/Y — the largest decline in Redfin's records that date back to 2012.
Home-price growth also lost momentum, although home prices have remained surprisingly high amid the broader housing carnage.  One can attribute that to the lack of liquidations so far; if however the housing malaise persists look for prices to go into freefall next. For now, the median U.S. home-sale price rose just 2.6% from a year earlier, the smallest gain since May 2020, when the onset of the coronavirus pandemic brought the housing market to a near halt.
To be sure, if and when sellers are forced to start hitting bids - as their liquidity buffers evaporate - we will see a historic buying frenzy driven by Wall Street money. Not surprisingly, a few days ago Redfin also reported that with most mortgage-funded buyers sidelined indefinitely and unable to access the market, roughly one-third (31.9%) of U.S. home purchases were paid for with all cash in October, up from 29.9% a year earlier and the highest share since 2014!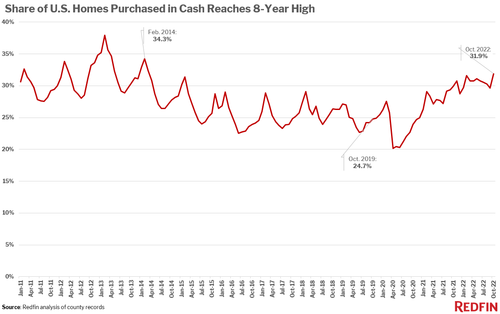 The housing market paralysis in November intensified as elevated housing costs kept buyers and sellers on the sidelines, while the record surge in mortgage rates in early November caused sales and prices to slow. New listings slumped 28.4% year over year, the biggest drop on record aside from April 2020. Despite the decrease in listings, overall supply rose 4.6% from a year earlier—a sign that homes lingered on the market as demand ebbed: the typical for-sale home took 37 days to go under contract, up from 23 days a year earlier.
The silver lining is that amid growing fears of an imminent Fed-induced recession which has sent rates sharply lower in the past month, there are early signs that demand may be starting to creep back as mortgage rates fall (which ironically is precisely what the Fed wants to avoid as it would further ease financial conditions). There was a slight downtick in the portion of home-purchase agreements that were canceled in November, and mortgage applications and Redfin's Homebuyer Demand Index have both been on the rise. Still, these early indicators haven't translated into more home sales.
As a reminder, in late November, mortgage rates reversed course dropping below 6.5% after soaring to the highest level in roughly two decades (7.08%) earlier in the month; that said they're still twice as high as they were a year ago. The Fed has since signaled that it has more work to do to quell inflation and isn't yet finished raising rates.
"The worst of inflation is likely in the rearview mirror," said Redfin Economics Research Lead Chen Zhao. "We do anticipate that mortgage rates will decline slightly further in 2023 as the Fed's actions continue to bring inflation down, which should ultimately bring more homebuyers back to the market. Still, we have a ways to go until we reach recovery mode, and we may see sales continue to ebb in the short term."
Zhao continued: "Prospective buyers in places like San Francisco and Austin, where prices have already fallen from a year ago, should pay close attention to a potential turnaround; it could be the time to take action as demand and competitive offers could pick up in the coming months."
Loading...