---
Nvidia CEO Slams Biden, Warns Escalating Chip War With China Will Lead To "Enormous Damage"
The CEO of Nvidia, the world's most valuable semiconductor company and which has been at the forefront of the AI revolution, warned that the US tech industry is at risk of "enormous damage" from the escalating battle over chips between Washington and Beijing.
Speaking to the Financial Times, Jensen Huang, who is preparing for NVDA's earnings call after the close today, said US export controls introduced by the Biden administration to slow Chinese semiconductor manufacturing had left the Silicon Valley group with "our hands tied behind our back" and unable to sell advanced chips in one of the company's biggest markets.
At the same time, he added, out of necessity Chinese companies have no choice but to start building their own chips to rival Nvidia's market-leading processors for gaming, graphics and artificial intelligence.
"If [China] can't buy from . . . the United States, they'll just build it themselves," he said. "So the US has to be careful. China is a very important market for the technology industry."
Biden's efforts to prevent China buying or developing advanced chips has become the most aggressive front in a new cold war between the two powers. Ironically, the come at a time when the confused, senile president is talking about a "thaw" with China, something even the socialist New York Times was making fun of.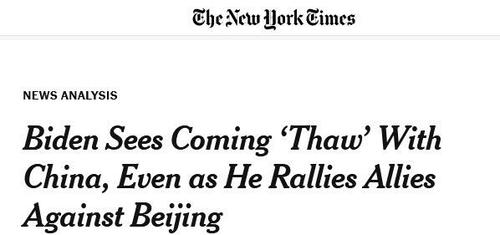 Huang's comments came days before Chinese authorities responded to Biden's escalation by announcing a ban on US memory chipmaker Micron's products from critical infrastructure, a move seen as the first significant retaliation against Washington's export controls.
The Taiwanese-American executive, who clearly has a lot to lose if China bans all NVDA chips and is talking his book, warned US lawmakers to be "thoughtful" about imposing further rules restricting trade with China. The California-based company has been blocked from selling its most advanced chips — the H100 and A100 series — to Chinese customers since August when the US imposed export controls on technology used for AI. Nvidia has been forced to reconfigure some of its chips to comply with US rules limiting the performance of products sold in China.
"If we are deprived of the Chinese market, we don't have a contingency for that. There is no other China, there is only one China," Huang said, adding that there would be "​​enormous damage to American companies" if they were unable to trade with Beijing.
Huang added that blocking the US tech industry's access to China would "cut the Chips Act off at the knee", referring to the Biden administration's $52bn funding package to encourage construction of more semiconductor manufacturing facilities in the US, and which has instead accelerated to a collapse at such chip giants as Intel.
"If the American tech industry requires one-third less capacity [due to the loss of the Chinese market], no one is going to need American fabs, we will be swimming in fabs," he said. "If they're not thoughtful on regulations, they will hurt the tech industry."
Then again, nobody has ever accused the Biden administration of having even the slightest clue about what it is doing or being aware its actions have consequences.
Nvidia has embedded itself at the centre of a global race to develop a new generation of AI tools, becoming the primary source of chips that are used to train the "large language models" that power chatbots such as OpenAI's ChatGPT.
Huang said China made up roughly one-third of the US tech industry's market, and would be impossible to replace as both a source of components and an end market for its products. Most of the world's advanced chips — including Nvidia's — are made in Taiwan, which Beijing claims as part of its territory. President Joe Biden has said the US would intervene if China took unprovoked military action against Taiwan. Analysts fear such a conflict would lead to severe global disruption in production of everything from cars to computers.
"We can theoretically build chips outside of Taiwan, it's possible [but] the China market cannot be replaced. That's impossible," Huang said. "So you've got to ask yourself which way do you want to push it."
China, including Hong Kong, accounted for more than a fifth of Nvidia's sales in its latest financial year ending January 2023, according to its annual report, while Taiwan represented more than a quarter.
Finally, it's not just the US whose decisions have been catastrophic for the global tech race: Huang also reflected on his failed takeover of UK-based chip business Arm due to regulatory hurdles, saying he'd been "deeply hurt" and it was no longer "easy for us to invest" in the UK. "I built the first implementation of the AI supercomputer in England, the Cambridge-1. I'm not going to build another," he said. "I'm done."
Loading...