---
Nvidia Does All The Heavy Lifting, Can't Prop Up Market Forever
By Ven Ram, Bloomberg markets live reporter and strategist
What stock trades at almost 50 times its prospective earnings, 40 times its book value and still have investors chase it higher and yet higher?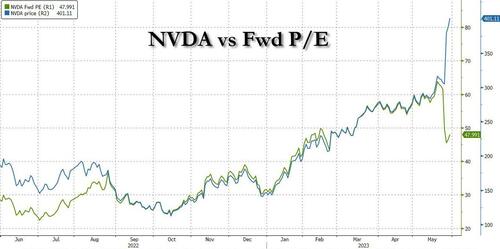 Given all the recent hullabaloo surrounding artificial intelligence, you wouldn't quite be entitled to a prize for guessing that we are talking about Nvidia. Of course, it's more common for sport commentators to watch for the Big Milestone Number. But when many in the markets were watching Nvidia's seemingly inexorable ascent through the $1 trillion threshold of market capitalization on Tuesday, it made for a rather unusual, if bemusing, spectacle.
It's no secret that the bulk of the gains in the broader market have come from just a handful of stocks of late, but regardless of how alluring some of today's stalwarts look, you can't forever prop up an entire market on the performance of a few.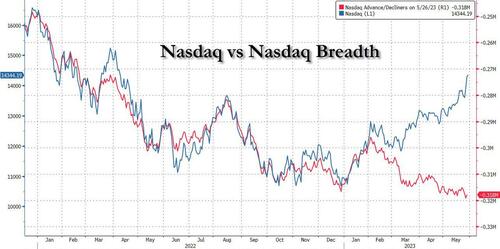 Meanwhile, the drumbeat of Fed officials seeking yet-higher interest rates is growing by the day: we had Thomas Barkin comment Tuesday that "however I look at it, it just looks like inflation is too high." His colleague Loretta Mester has also remarked that she doesn't see "a compelling reason to pause."
Over in Europe, we get a slew of inflation numbers today with North Rhine Westphalia already out of the blocks, and the German national print due later in the day. Westphalia's data has come in much weaker than forecast, and Mark Cudmore has pointed out that Westphalia inflation hasn't diverged from the national number by more than 45 basis points in data going back decades. And of course, we got lower-than-estimated numbers out of Spain on Tuesday. Consumer prices in France, too, rose less than forecast, so there is a pretty coherent picture that is emerging before the composite numbers for the euro zone as a whole will look tomorrow.
Even so, given the current bias among inflation traders the European Central Bank will probably keep lifting rates higher.
Loading...