---
NYC Delays 23K COVID Vaccinations As McKesson "Logistical Error" Leaves Moderna Jabs Too Cold
Following comments from a top Israeli public health official who said that Pfizer's vaccine hasn't been quite as effective as they hoped according to the initial data, with the efficacy rate closer to 50% than the 95% that had been advertised, we're now learning that NYC was forced to cancel 23K scheduled vaccinations after a McKesson "logistical error" forced them to recall 21 shipments of the Moderna jabs.
Appointments at all 15 of the city's vaccination centers have been canceled on Wednesday.
The world seemed to be too preoccupied with President Joe Biden's inauguration to notice, as global stocks celebrated the new administration as the Bushes, the Clintons and all their establishment pals showed up for Biden's speech and inauguration in front of 20K flags.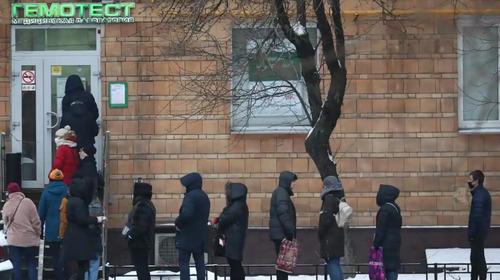 First, on Wednesday, McKesson confirmed that it had recalled several shipments of the Moderna vaccines after a logistical error caused them to be delivered too cold. It echoed an earlier logistical error involving Pfizer jabs that were delivered too hot.
McKesson was simply confirming news that was reported yesterday by a Lansing, Mich.-area TV station, which reported that 21 shipments of the vaccine had spoiled, and that McKesson had notified Moderna about the issue.
Yesterday we reported 21 shipments of Moderna vaccine compromised. Today @DrKhaldun says she believes it was the fault of the producer, @McKesson. She also said the loss will not impact the state's vaccination efforts bc we received a new shipment.https://t.co/uKwnet5fhp

— Callie Rainey (@callieWWMT) January 20, 2021
Shortly thereafter,  NYC Mayor Bill de Blasio and one of the city's top health officials confirmed Wednesday that the city had been forced to reschedule 23K vaccinations due to supply shortages caused by these delays.
Health Commissioner Dave Chokshi said he was informed about the delays in the Moderna shipments by the city's partners at the federal government, and added that the delays weren't related to side effects or vaccine performance.
"This is purely a shipment issue, a logistical issue," Chokshi said.

"We anticipate that the vaccines are intact and we will get them in the course of delivery today and tomorrow."
About half of the delayed supply was intended to be given as second doses. The rescheduled appointments, though, are for people getting their first doses, who will be offered new appointments in the next week."
It appears the delays in New York are a direct result of the shipments being delivered too warm. About half of the delayed supply was intended to be given as second doses, according to Bloomberg. Most of the rescheduled patients were set to receive their shot for the first time as people who had already received their first shot and were due for their booster took precedence.
Of course, temperature issues haven't been the only problems with the vaccine rollout. Moderna recalled a batch in California after a higher-than usual number of patients had "adverse" reactions. And, of course, many have died, and many others been sickened around the world. Though admittedly still a small fraction of the 40MM+ people who have purportedly received the vaccine worldwide.
McKesson and Moderna have, so far, been vague about the nature of the logistical issue that caused this - and we could understand vaccines being shipped too hot, but it seems like shipping something too cold would take more deliberate effort.
While logistical issues have seemingly been rare, the US is finally getting over a problem where hospitals couldn't manage to distribute vaccines quickly enough. This was blamed, in some places, on too-restrictive requirements on who qualified to receive the vaccine, as huge numbers of health-care workers, and a surprising number of long-term care home residents, have passed on taking it.
Fortunately, it looks like the shipments were recalled before any of the spoiled doses could be distributed. But if nothing else, it's  an example of the fraught logistical process used to transport the vaccines. And that's presumably in addition to the reactions that we've seen around the world, which have caused some health authorities to consider pausing distribution.