---
Oaktree Among Distressed Funds Piling Into Tumbling Adani Bonds
Following a historic plunge in the net worth of Gautham Adani, who is still India's richest and was briefly the world's richest man, following a scathing report by short-seller Hindenburg Research which cut the market value of Adani's network of businesses by more than half, hedge funds and distressed debt specialists have seen enough and are rushing to scoop up bonds related to Adani's business empire as they look to capitalize on falling prices.
According to Bloomberg, Oaktree and Davidson Kempner, two of the largest US distressed hedge funds, were among those buying the debt in recent weeks. Distressed funds have been actively trading the bonds from their Asian offices, Bloomberg reports citing a person familiar with the matter. It was not clear whether the firms already held Adani bonds prior to US short-seller Hindenburg Research publishing its report on Jan. 24.
Last month all publicly traded securities linked to Adani's sprawling empire tumbled after Hindenburg accused the group inflated revenue and stock prices. The conglomerate has repeatedly denied Hindenburg's allegations of corporate wrongdoing and threatened legal action, but has largely failed to stem the drop.
Meanwhile, on a call with clients last week, Goldman traders said Adani securities had drawn interest from investors amid an equity rout and a debt slump that pushed some bonds to distressed levels. According to Goldman, Adani debt had hit a floor in the short term and bonds of Adani Ports & Special Economic Zone Ltd. had become interesting at the current price. The price of those bonds rose in the following days as investors looked to capitalize on the potential for a rebound.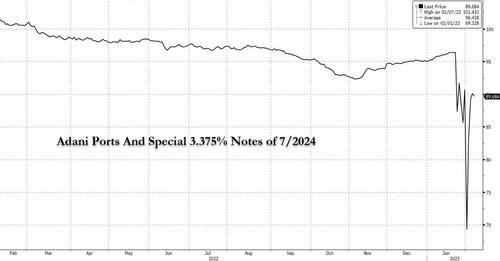 Adani Ports said earlier Tuesday it will repay around 50 billion rupees ($604.6 million) of debt in a bid to improve its leverage metrics. Similar loan repayment news helped push Adani stocks higher for the first time after days of declines.
Loading...