---
Oil Break Below $80 May Test OPEC's Resolve
By Grans Smith, Bloomberg markets live oil reporter
Saudi Arabia and its partners opted against making any output adjustments at a monitoring meeting last week, indicating that the hefty cutbacks announced late last year should be sufficient to keep global markets in equilibrium. One official said the coalition aimed to keep those targets unchanged until the end of 2023, or at the very least until its next in-person gathering in June.
Events could get in the way of that plan-of-inaction. Brent slipped below $80 a barrel again today as China's economic reopening struggles to give enough immediate lift to demand, in a market where supplies seem plentiful. Even supply disruptions in the North Sea and Iraq failed to arrest the price slide.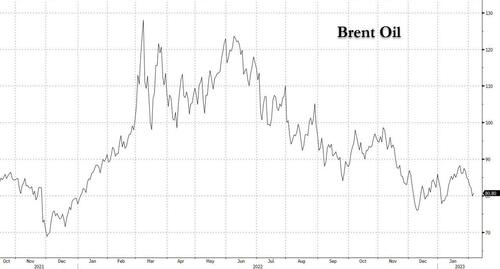 While OPEC insists it doesn't target a price, and $80 a barrel is still high enough for many members to cover government spending, it's a little lower than several of the group's key producers would prefer.
Leading industry figures are confident that if it comes to the crunch, OPEC and its partners would intervene to prop up a sinking market. Ben Luckock of trading giant Trafigura told Bloomberg Television last week he believes OPEC+ will prevent oil prices from drifting down into the $70s.
That would be consistent with the doctrine often espoused by Saudi Energy Minister Prince Abdulaziz bin Salman, which he repeated in December: the OPEC+ network is prepared to be "proactive and preemptive" to keep global crude markets in equilibrium.
As OPEC Secretary-General Haitham Al-Ghais reminded oil traders earlier today, if it becomes necessary for the group to act, decision-making ministers are just "a phone call away" from each other.
Loading...