---
Oil Could Be The Haven Stocks Traders Need To Shelter From Fed
By Nour Al Ali, Bloomberg Markets Live commentator and analyst
Oil is starting to look like an unlikely haven from the stocks selloff in the run-up to anticipated Fed tightening.
Traders are pricing lower volatility in the commodity than in the Nasdaq and S&P 500. Barometers of market anxiety for both indexes have shot up recently, suggesting trader sentiment is souring. Meanwhile, the CBOE Crude Oil Volatility Index, which measures the market's expectation of 30-day volatility of crude oil prices applying the VIX methodology to USO options, shows that oil prices are expected to remain relatively muted in comparison.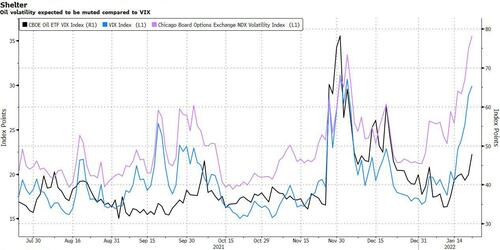 With a producer cartel to support prices, the outlook for oil is more sanguine, even if the Fed raises rates. The commodity has ample support, with global oil demand expected to reach pre-pandemic levels by the end of this year. The U.S. administration has been pushing oil-producing nations under the OPEC+ cartel to ramp up output, while the group has stuck to a modest production-increase plan and is expected to rubber-stamp another 400k b/d output hike when they meet next week. This means that oil is likely to stay a lot more stable than in recent years.
The relatively low correlation between the asset classes provide diversification benefits. The relationship between the S&P 500 and the global oil benchmark is weak and lacks conviction; it's even weaker between the Nasdaq 100 and Brent crude contracts. The divergence in price action this week could indicate that stocks have been tumbling in fear of a hawkish Feb, more so than geopolitical risk alone. That would perhaps offer traders an opportunity to seek shelter amid stock volatility in anticipation of the Fed's next move.
Oil might have tracked the decline in stocks at the beginning of this week, but the commodity is back to its highs now. It's up close to 15% this year, while the S&P 500 is struggling to reclaim its footing after plunging as much as 10%.