---
Oil & Gas Jump; Bonds, Big-Tech, & Bitcoin Dump As Recession/Rebalance Looms
More ugly US data from The Dallas Fed and Chicago Fed piled on dismal IFO data from Germany this morning added to the expectations for a recession (technical - don't get us started arguing this semantic shit) to be unveiled this week just as The Fed hikes rates by 75bps once again and month-end rebalancing flows mess with trade plans.
US Futures had a good overnight session but heading into the US cash open, things started to go just a little bit turbo and then big-tech (long-duration) stocks were puked. There was an attempt to BTFD into the European close, but that evaporated and a late-day purge in crypto sent stocks back towards the lows of the day. Nasdaq (long-duration) was the worst performer but a late-day panic-bid put some lipstick on an otherwise pig-like market today...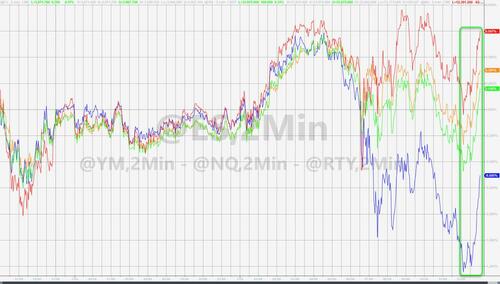 There was no differentiation between defensive and cyclical stocks today...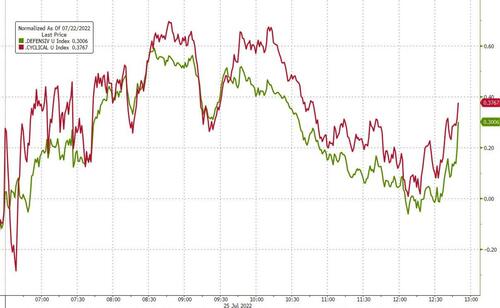 Source: Bloomberg
Treasuries were sold today with the long-end underperforming...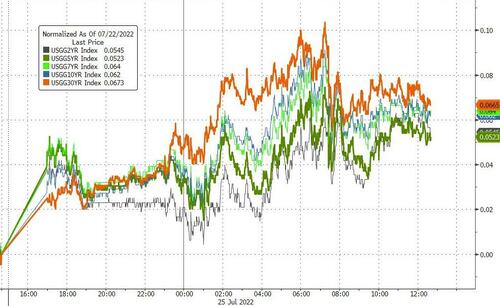 Source: Bloomberg
The 30Y Yield pushed back above 3.00%...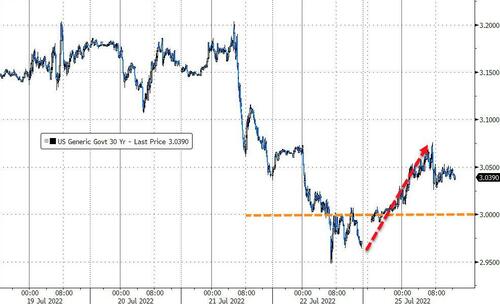 Source: Bloomberg
Crypto was clubbed like a baby seal again, back below $22k...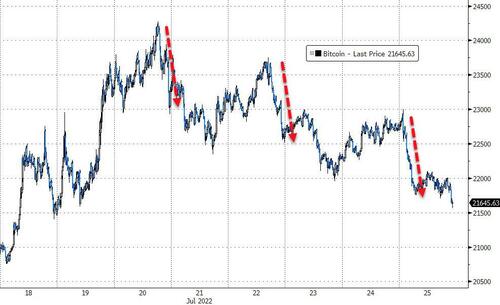 Source: Bloomberg
The dollar dipped on the day but managed to hold above Friday's lows...
Source: Bloomberg
Despite the dollar weakness, gold also lost ground today with selling in the 'fix' window...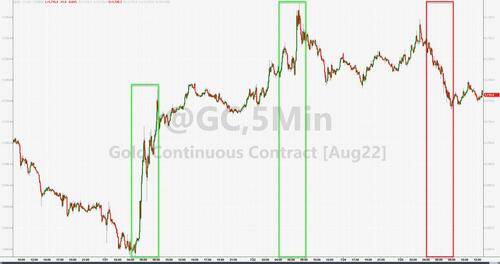 Oil prices rallied notably overnight...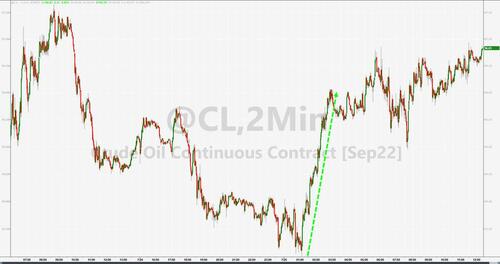 Additionally, as Bloomberg report, the gap between global oil benchmarks is hitting new extremes as traders weigh supplies in different regions of the world.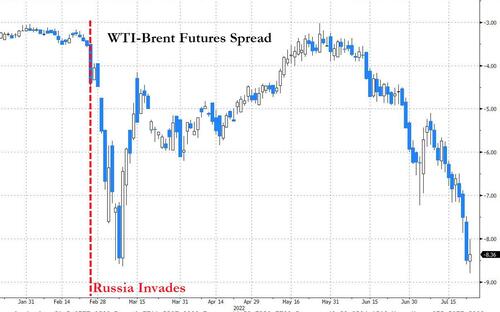 West Texas Intermediate crude futures traded at a discount of as much as $8.80 a barrel to the global benchmark Brent on Monday, the widest spread since Russia invaded Ukraine, excluding June 30 when Brent's then front-month contract expired. Oil inventories in the US are relatively higher due to releases from the Strategic Petroleum Reserve, while Brent markets continue to remain tight as Europe seeks to curb imports from Russia.
NatGas prices (US and Europe) ripped higher again as Russian flows stalled. US NatGas is at its highest in 6 weeks...
And on an 'oil barrel equivalent' basis, European NtGas is trading back above $300 (more than double the $147 equiv for US NatGas)...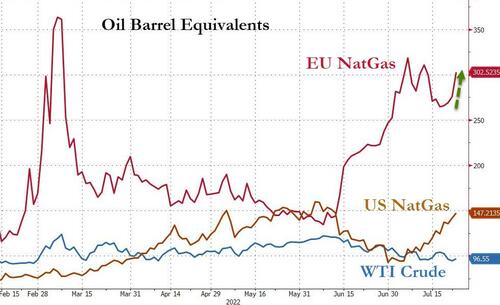 Source: Bloomberg
Finally, for all those claiming that "you can't have a recession with such a strong labor market", perhaps it's time to ignore the smoothed efficiency of the payrolls data 'produced' by the BLS and consider the multi-week trend in initial jobless claims...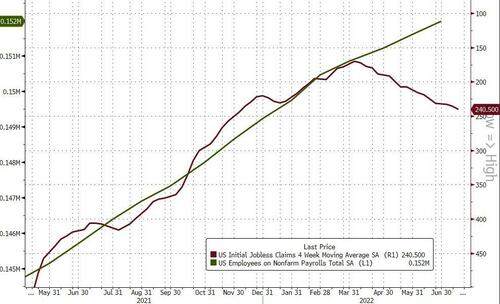 Source: Bloomberg
While no 'officials' will dare to mention the 'r' word...
Americans are not living the dream, no matter how much President Biden attempts to show that his efforts have saved the average car driver $35 per month (but actually cost them $423 since he was elected).