---
Ominous Sign: Internet Searches For "Cancel Golf Membership" Jump
Is golf still booming?
Let's provide some context. Before the pandemic, many private golf courses were in a slump. Then Covid came along in early 2020, and by that spring, as the draconian government lockdowns expired, people raced to the courses. Private courses saw a boom as new members soared. But nearly three years later, perhaps the boom is fading. 
Before we speculate why, the key phrase on Google, "cancel golf membership," has catapulted above pre-Covid highs.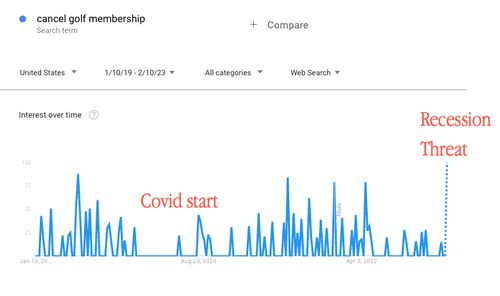 Some private courses tell us in the Mid-Atlantic region that contract renewal periods for members who joined in the early days of Covid are coming due. Some folks aren't renewing their membership as long waitlists wither down or, in some cases, slots open up. This could be a sign that the great golf boom of the pandemic is waning. 
Why did some members who joined exclusive golf courses that paid an initiation fee of more than $20,000 with monthly dues of around $1,000 opt out of renewing their contracts? 
Well, we're not entirely sure. It could be wealthy households are cutting back on expenses as the inflation storm, and recession risks spark vast uncertainty about the economy. 
For our long-time readers, remember during the GFC when private courses were battered as members walked off courses due to the precarious state of the economy. 
A Reuters headline from 14 years ago. 

The spike in the search term "cancel golf membership," as well as the Fed-induced slowdown in the economy, is an ominous sign rich people are beginning to pull back on spending. After all, the working poor is already maxed out. 
Loading...