---
OPEC+ Considering Additional 1 Million Barrel Oil Production Cut Amid Outrage Over Gaza War
Two days ago, JPMorgan's head of energy strategy Christyan Malek warned that amid the recent plunge in oil prices, driven as much by shorting CTAs (who today are in full-blown short squeeze panic mode) as the BIden admin, the oil market was underestimating the chances of deeper supply cuts during this month's Nov 26 OPEC+ meeting.
"The market's probably assuming very little chance of that happening, I'd say it's much higher than that – not as a base case but as a scenario" Malek told Bloomberg in an interview, adding that deeper curbs would be "in order to get ahead of potential weakness in the first half of next year."
"We may need to see" a cut "given where the balances are, particularly given the demand trending." And while "there's a view that Saudi is tapped out", Malek said that he doesn't believe that: "I think there's more flex if they wish to cut. We could see them do sizable cuts from here; having said that, I think it's more likely they'll want to socialize them among their OPEC peers – a collective cut rather than one on their own."
And so, from JPM's strategist to OPEC+'s ears because moments ago the FT reported that what until recently was unthinkable, is suddenly all too possible and largely thanks to the (mostly) Arabic resentment at what Israel is doing in Palestine: according to the FT, not only is Saudi Arabia prepared to prolong oil production cuts well into next year but Opec+ is weighing further reductions in response to falling prices and rising anger over the Israel-Hamas war.
Why? Because while OPEC+ is not getting directly involved in the Gaza war, it certainly did not expect the Biden oil trading desk to hammer oil as hard as it did. If anything, it was expecting oil prices to rise above $100. Or as the FT puts it, "an additional Opec+ cut of up to 1mn b/d could be on the table, one informed person said, describing the cartel as "galvanised" by the conflict."
Naturally, the further cuts - which are under discussion by Opec+ as it prepares to meet in Vienna on November 26 - could further inflame tensions with the US, although it appears that nobody in the cartel is even remotely worried about angering the senile US president who just got schooled by "dictator" Xi Jinping during his recent tour of China's California colony.
There's more: Opec+ is clearly not happy that the US is so openly on the side of Israel in the Gaza conflict. And while the oil price drop is the main cause, "members are also indignant at Israel's war on Hamas and the humanitarian crisis in Gaza" the FT reports, adding that "Kuwait, Algeria and Iran are among the Opec members most agitated by the conflict."
"You should not underestimate the level of anger there is and the pressure leaders in the Gulf feel from their populations to be seen to respond in some manner," said another person close to senior Opec figures in the Gulf, effectively confirming that an Opec+ production cut would directly target Biden's policies meant to keep the price of oil (and gas) as low as possible into the 2024 election.
The person said there would be no repeat of the oil shock of the 1970s, when Arab states halted exports to the west. But they added: "People have become complacent about the potential to tighten oil supplies to send a subtle message, which will be well understood both in the streets and Washington DC."
Joe Biden, having crushed the US middle class in the past three years with his catastrophic economic policies, is facing an impossible re-election battle next year where he is already losing against his predecessor Donald Trump according to multiple polls, and the White House is struggling to convince voters that the country's economy is healthy. The only thing it has to show: oil gas prices (which are largely the result of markets pricing in the coming recession). If Opec+ can send oil prices soaring again, then Biden is completely finished.
Some more from the FT:
The people close to Saudi Arabia's thinking stressed that no final decision had yet been made. They emphasised that any public statements by Saudi Arabia's energy minister, Prince Abdulaziz bin Salman, would keep the focus on the oil market, rather than the Israel-Hamas war.

Prince Abdulaziz recently hit out at hedge funds that have increased their bets against oil, amid expectations that the market may move into a small surplus next year because of the weak global economy and rising supplies outside Opec.

Other analysts suggested that Prince Abdulaziz could push other countries to deepen cuts — or comply with past commitments to reduce production — by threatening that Saudi Arabia could shift back towards full production unless such steps are taken.
It's not just Saudis that want oil as high as possible: Russia depends heavily on oil to finance its invasion of Ukraine, and has been increasing seaborne exports in recent months. However, if it means boosting oil prices, even Putin would be willing to seek a sharp if brief production cut, just enough to spark a worldwide energy panic.
Meanwhile, the economic reform program of Prince Abdulaziz's half-brother, Crown Prince Mohammed bin Salman requires an oil price close to $100 a barrel: the plan ranges from building hypermodern cities to hosting the 2034 football World Cup.
Ahead of the FT report, it appears that the news had leaked far and wide, and after plunging into a bear market amid CTA liquidations, we have seen a complete reversal in the price of Brent, as if yesterday never happened.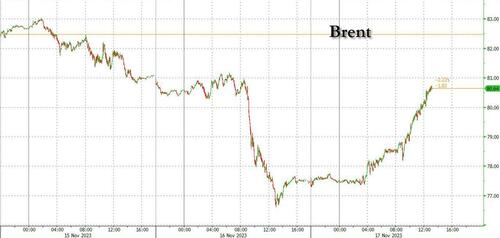 Loading...