---
OPEC+ Not Expected To Change Course On Oil Production Cuts
By Tsvetana Paraskova of OilPrice.com
The OPEC+ group is not expected to ease the ongoing production cuts when ministers from a monitoring panel meet on Wednesday to review the state of the market, Bloomberg reported on Tuesday.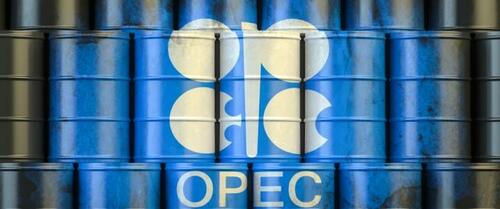 The Joint Ministerial Monitoring Committee (JMMC) of OPEC+ is meeting on October 4 for a regular discussion of the oil market developments in recent weeks. Delegates from the group have told Bloomberg they do not expect the committee to make any recommendations of a policy change despite the increasingly tight oil market and the creeping fears of demand destruction if prices stay elevated above $90 and close to $100 per barrel.
The current OPEC+ decisions are the "right policy," Suhail al Mazrouei, Energy Minister at one of the leading OPEC producers, the United Arab Emirates (UAE), told Bloomberg in an interview on Monday.
While several OPEC+ producers are cutting oil production from May 2023 until 2024, OPEC's top producer and the largest crude oil exporter in the world, Saudi Arabia, has extended its extra 1 million bpd cut until the end of this year.
The Saudi cut has contributed to the rally in oil prices, which hit their highest for the year last week, with Brent topping $97 per barrel and WTI Crude rising to the highest level in 13 months.
This week, oil prices have been declining due to the rising U.S. dollar and concerns about higher-for-longer interest rates.
Ahead of this week's meeting, some analysts suggested last week that the Kingdom could begin easing the cut sooner than oil market participants believe as the world's top crude oil exporter wouldn't risk demand destruction through too high prices.  
According to Rapidan Energy's president Bob McNally, Saudi Arabia could start easing the cuts sooner than traders realize as it wouldn't want to overheat the market.
Warren Patterson, Head of Commodities Strategy at ING, said last month,
"OPEC+ will continue to review supply cuts on a monthly basis, so we could very well see the group – or at least Saudi Arabia – gradually ease its additional voluntary cuts this year, which would help take some pressure off the market."
Loading...