---
PacWest Bank Tumbles After Abandoning Capital Raise
While all eyes have been distracted by First Republic Bank's efforts to re-capitalize, it appears Pacific West Bank (PacWest) has also been trying to raise capital.
The bank issued an update this morning confirming that it is abandoning its plans for a capital raise:
In addition to these liquidity-enhancing measures, and as part of its proactive approach to capital and liquidity management, the Company has explored a capital raise with potential investors.

In light of the current volatility in the market and depressed market prices for regional bank stocks, as well as the availability of other options to enhance capital, the Company determined it would not be prudent to move forward with a transaction at this time.

This decision reflects the Company's confidence in its financial strength and commitment to ensuring the long-term stability and profitability of the institution.
The bank announced that is has drawn on available federal facilities, including:
$3.7 billion of borrowings from the FHLB,

$10.5 billion of borrowings from the Federal Reserve Discount Window, and

$2.1 billion in Bank Term Funding Program borrowings, in each case as of March 20, 2023.
Additionally, the bank securitized some assets to raise some cash...
The Bank has seen validation from the private sector as well, having secured $1.4 billion in fully funded cash proceeds from ATLAS SP Partners through a new senior asset-backed financing facility, which unlocked liquidity from unencumbered, high-quality assets in an expeditious manner.
As a reminder, the bailout BTFP has very limited collateral, and so PacWest's decision to securitize 'other' assets suggests they did not have enough high-quality, eligible securities to grab more of that easy money from The Fed.
PACW is down over 10% in the pre-market...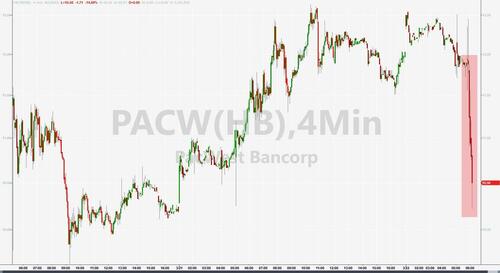 The bank stated that it has over $11.4 billion in available cash as of March 20, 2023, which exceeds total uninsured deposits of $9.5 billion as of March 20, 2023.
"I am proud of the efforts the entire PacWest team has taken in these challenging times to enhance our liquidity and preserve franchise value," said Paul W. Taylor, Pacific Western Bank President and CEO.

"We have remained steadfast in our commitment to our customers and our communities, and we are grateful for their support and loyalty. As we look ahead, we have continued confidence in the strength of PacWest and are encouraged by the stability we have seen in our deposits and liquidity over the past week. Additionally, we continue to be encouraged by the clear message from government officials, regulatory agencies, and industry leaders, including Secretary Yellen's recent remarks regarding the protection of smaller bank depositors. We look forward to continuing to sharpen our strategic focus, bolster our balance sheet, and be a proven partner to our customers."
The bank also admitted that it has seen 20% of deposit outflows since the start of the year...

That expensive capital raise may be more prudent soon.
Loading...