---
PacWest Shares Crash After Reporting Deposit-Flight Accelerated Last Week
Despite all the protestations from talking heads, it appears the reality is that the US bank deposit run is far from over.
Just as we warned on Friday - where non-seasonally-adjusted deposits tumbled...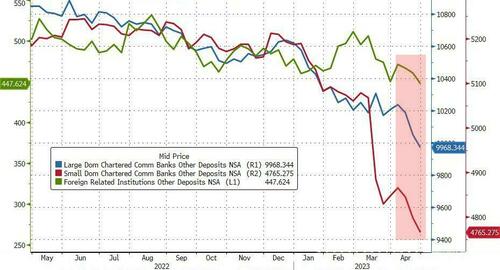 Now a new filing from embattled regional bank PacWest shows that deposits declined about 9.5% during the week ended May 5, with a majority of that decline occurring on May 4 and May 5 after the news reports on the afternoon of May 3.
On May 1, 2023, First Republic Bank was closed by regulators and immediately sold to J.P. Morgan Chase.

This event heightened market and customer fears of additional bank failures, including PacWest. Our stock price declined approximately 41% from $10.15 on April 28, 2023, to $5.96 on May 5, 2023.

On the afternoon of May 3, 2023, PacWest was featured prominently in the financial news headlines with reports that PacWest was "exploring all of its options and having talks with potential investors and partners".

The news headlines increased our customers fears of the safety of their deposits.

During the week ended May 5, 2023, our deposits declined approximately 9.5%, with a majority of that decline occurring on May 4th and May 5th after the news reports on the afternoon of May 3rd.
Commenting in a 10-Q filing, the bank outlined actions it's taken to mitigate risk in the wake of the regional banking crisis:
Pledged additional assets as collateral for borrowings (i.e. using The Fed's bank bailout facility even more)

"Increased the number of customers enrolled in reciprocal deposit programs that increases the amount of FDIC insurance coverage on their account(s) to help retain these customers"

"Offering competitive promotional rates on our deposit products to attract new customer deposits"

Reduced 2Q common dividend from 25c to 1c
We will get data on Fed bank bailout facility usage tonight (and more deposit data tomorrow) to get a sense for how this is accelerating further.
PACW shares are down 28% in the pre-market. Is this those pesky short-sellers "manipulating" the market once again?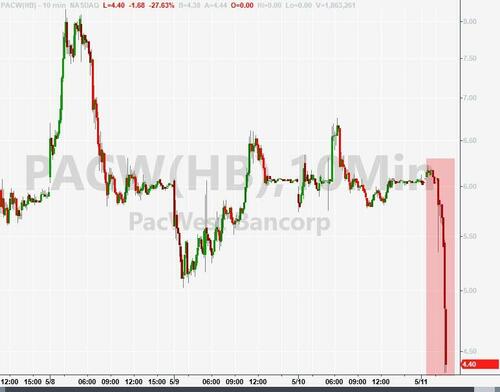 So it appears The Fed's effort to paint over deposit flow data with seasonal adjustments is failing... fast.
But, but, but Jim Cramer said...
PACWEST DEPOSITS DROPPED 9.5% DURING WEEK ENDING MAY 5 https://t.co/5HBOahO4bE

— zerohedge (@zerohedge) May 11, 2023
Loading...