---
More Potential Buyers Emerge For Peloton
(Update: 7:00pm ET, Feb 6): Shortly after the WSJ reported that Peloton was drawing acquisition interest from "multiple suitors including Amazon", on Saturday the FT added Nike to the list of companies that are "separately evaluating bids for Peloton" as part of what we have dubbed a flurry of distressed M&A defining the current market selloff...
Distressed M&A #3: Peloton Draws Interest From Potential Suitors Including Amazon: WSJ

— zerohedge (@zerohedge) February 4, 2022
... after the company with the iPad superglued to the front of an exercise bike came under fire from an activist investor who has urged the board of the maker of connected fitness bikes and treadmills to sack its chief executive and explore a sale.
Nothing is imminent, with the FT noting that both Amazon and Nike have not held any direct talks with Peloton and the considerations are preliminary, citing "people briefed on the matter" who added that the decision to look at Peloton was opportunistic given its market value collapsed from nearly $50bn 12 months ago to less than $8bn this week. Of course, those people may just be long who have seen their holdings wiped out in recent weeks.
Of course, the lower the PTON price drops, the more likely it is that other strategic (or even financial) buyers will emerge, "potentially including Apple and large private equity buyers."
Sure enough, in a weekend note from Wedbush, the bank writes that Apple may emerge as the eventual buyer as "acquiring PTON would be a major strategic coup and catalyze the company's aggressive fitness initiatives."  The note adds that AAPL may be forced into this deal if "AMZN, NKE, or potentially DIS aggressively go after Peloton in a defensive blocking .. move."
Of course, any deal would be hard to get done without the backing from John Foley, Peloton's co-founder, and other insiders due to the company's dual-class shareholder structure, which gives them veto power on all big decisions.
That said, now that acquisition interest is a clear and present danger, expect the shorts to cover as the last thing they can afford is be underwater on what had previously been a profitable position after an unexpected takeover bid sends the stock soaring. On Friday, PTON price jumped 30% in after-hours trading after The Wall Street Journal reported that Amazon was considering a bid for the company."
* * *
After a week of utter chaos in the US equity markets, with unprecedented intraday swings in market caps of the largest companies in history, The Wall Street Journal decided that 1710ET was the perfect time to drop a report, sourcing 'a person familiar with the matter' that beleaguered bike-maker Peloton is drawing interest from multiple potential suitors including Amazon.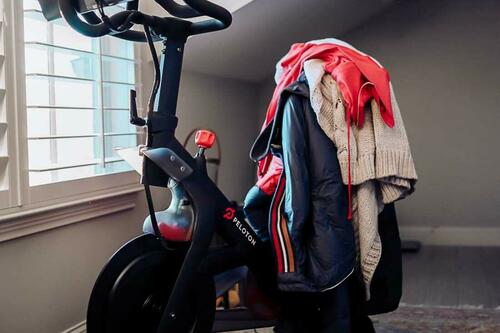 As WSJ reports, according to people familiar with the matter, Amazon has been speaking to advisers about a potential deal.
And in what can only be assumed is an effort to promote a bidding war for this cash-burning cow, the 'people familiar with the matter' also said that other potential suitors are circling (but that no deal is imminent and there may not be one at all).
Given the total lack of liquidity in markets - especially so at 1710ET on a Friday - PTON shares exploded over 30% higher in after-hours trading, erasing the losses triggered by a report in January from CNBC that the company faces layoffs and production halts.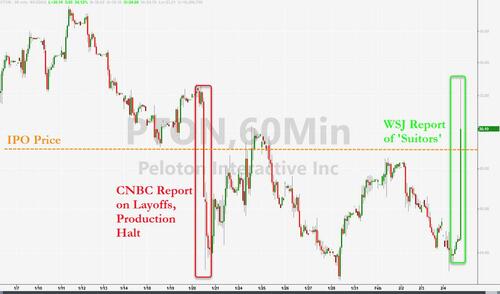 Interesting that this 'source' would appear shortly after reports that an activist shareholder is calling for the CEO to be fired and the company to be sold.
Color us skeptical... how long until the AMZN denial....