---
Robinhood Is Reportedly Raising Another Billion Dollars... On Top Of $4 Billion In Last Week
Update 1500ET: Despite all the spin and hoopla that securities trading restrictions are being lifted and all is well in the wild wild west world of Robinhood's back office after raising $3.4 billion in fresh capital in the last few days and another $600 million in revolver drawdowns, Reuters is reporting that the free trading app has held talks with banks about raising an additional $1 billion in debt
Robinhood started negotiations with banks about expanding its lines of credit or arranging a new one after it drained its revolving debt facility during last week's frenetic trading, one of the sources said.

It is not clear how much debt Robinhood will be able to secure.

The sources requested anonymity because the matter is confidential.

Robinhood declined to comment.
Sadly, Robinhood's representations that it is adding the capital "to invest in record customer growth"...
We've raised $3.4 billion to invest in record customer growth. With this funding, we'll build and enhance our products that give more people access to the financial system. https://t.co/4gcfY5PCBa

— Robinhood (@RobinhoodApp) February 1, 2021
... seems a little suspect, as with everything else involving this company.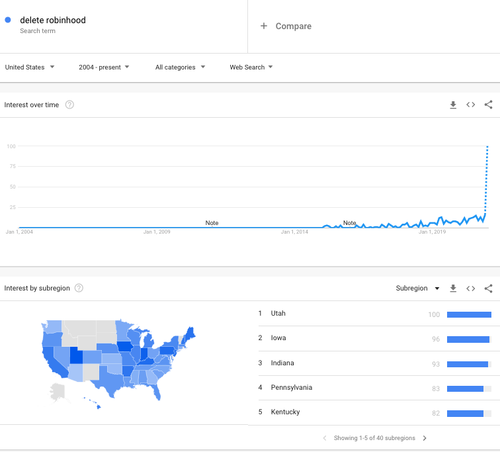 Meanwhile, the lies continue:
Actually you have raised $4 billion (including $600MM revolved) to fund capital shortfalls due to catastrophic risk management and disastrous back office operationshttps://t.co/Uxoi8xxn6v

— zerohedge (@zerohedge) February 1, 2021
*  *  *
Update 1215 EST: In a development that will come as surprise to nobody, Charlie Gasparino reports that Robinhood's plans have been put on hold, noting that  the company has to "focus on surviving the current drama over trading of stocks and settlement issues."
SCOOP: Ppl inside @RobinhoodApp tell @FoxBusiness plans for an IPO are on hold to focus on surviving the current drama over trading of stocks and settlement issues. Execs say they have access to even more capital than additional amounts raised today. More @TeamCavuto 1230pm

— Charles Gasparino (@CGasparino) February 1, 2021
While it is clear that Robinhood will never IPO now, the biggest question is whether the loss of clients is big enough that the latest $4 billion in new capital will itself be impaired in the coming weeks, and what happens then?
So Robinhood finally has enough capital. Does it have any clients left is the question., especially with all its competitors now offering zero cost trades

— zerohedge (@zerohedge) February 1, 2021
* * *
Update 1134 EST: Confirming the rumors that CNBC's David Faber reported earlier, The Wall Street Journal reports that Robinhood has raised another $2.4 billion from investors. That is on top of the $1 billion raised last Thursday, and on top of the $600MM revolver drawdown previously, for a total of $4 billion in just 3 business days.
Robinhood just issued a statement to confirm WSJ's reporting:
Robinhood has raised $3.4 billion to continue to invest in record customer growth, including $1 billion in funding announced on January 29. This funding is a strong sign of confidence from investors and will help us build for the future and continue to serve people through the exponential growth we've seen this year.

We're witnessing a movement of everyday people taking control of their own financial futures,  many investing for the first time through Robinhood. With this funding, we'll build and enhance our products that give more people access to the financial system.

We will also continue to invest in expanding access to financial literacy in service of our mission to democratize finance for all. We look forward to sharing more details in the coming months.

The round was led by Ribbit Capital, with participation from existing investors including ICONIQ, Andreessen Horowitz, Sequoia, Index Ventures, and NEA with terms being finalized.

"Robinhood has served millions of people who have felt left behind by America's financial system. We're confident that Robinhood will emerge stronger through this phase of growth and unprecedented demand," said Micky Malka, Managing Partner, Ribbit Capital.

"This round of funding will help us scale to meet the incredible growth we've seen and demand for our platform. We are humbled by our customers' response to our offering, and remain inspired by everyday people taking control of their financial futures," said Jason Warnick, CFO, Robinhood.
The $4.0 billion raised since last Thursday is more than the company has raised in its entire prior existence, and amounts to more than half of the current balance sheet...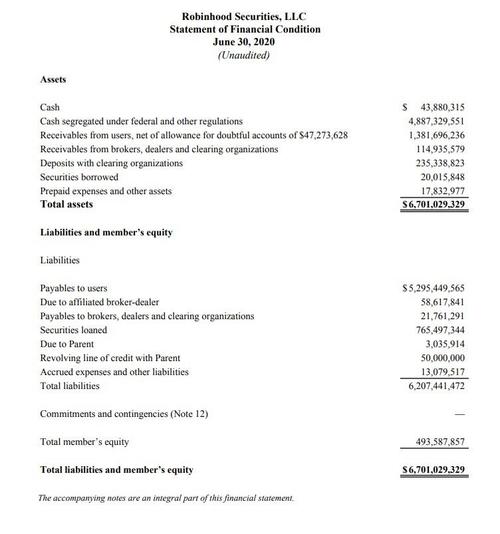 Especially, given the latest valuation:
August 2020: Dan Sundheim's D1 Capital Partners poured $200 million into RobinHood

Jan 2021: Dan Sundheim's D1 Capital Loses About 20% This Month pic.twitter.com/QbZ0ZiI01G

— zerohedge (@zerohedge) January 31, 2021
This helps explain why this morning has seen Robinhood reduce the number of securities on its restricted list and increased the number of shares that users can buy on some of the highest risk stocks (e.g. clients can now buy 4 GME shares, not just 1).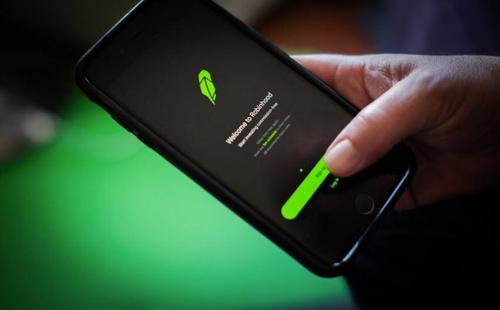 *  *  *
Update 0931 EST: CNBC's David Faber says on-air this morning he's "hearing Robinhood is probably going to need more capital". 
Forbes reports that Tenev told Elon Musk over the weekend he had "no reason" to believe that "something shady" went down involving Robinhood and Citadel last week. He told Musk: "You're getting into conspiracy theories a little bit."
*  *  *
Today in "billionaires who have abused the system but are now trying to present themselves as modern day heroes," news, Elon Musk took to Clubhouse yesterday to interview Robinhood CEO Vlad Tenev. Tenev has been the center of controversy after the commission free broker started limiting trades in names like GameStop and AMC, among several dozen other stocks, last week. 
Jokingly referring to Tenev as "Vlad the stock impaler", which is hilarious given the fact that Robinhoodies keep a perpetual dumb money bid under Tesla, Musk grilled the CEO on what happened with Robinhood in the week prior. 
"The people demand an answer and they want to know the truth," Musk, borrowing the faux-populist billionaire crown from Chamath Palihapitiya for the evening, said to Tenev. 
Tenev explained: "Basically Wednesday of last week we just had unprecedented volume, unprecedented load on the system. A lot of these, you know, so-called meme stocks were, you know, going viral on social media, and people were joining Robinhood and there was a lot of net buy activity on them." 
Tenev said that "while he was asleep, at 3:30 a.m. Pacific time last Thursday, Robinhood's operations team got a file from the National Securities Clearing Corporation (NSCC)," according to MarketWatch. 
He continued: "We have to put up money to the NSCC based on some factors including things like the volatility of the trading activity into certain securities. And this is the equities business so it's based on, stock trading and not options trading or anything else. So they give us a file with the deposit and the request was around $3 billion, which is, you know, about an order of magnitude more than what it typically is."
When Musk asked about the $3 billion number, Tenev responded: "Robinhood up until that point has raised around $2 billion in total venture capital, up until now. So it's a big number, like $3 billion is a large number, right? I wouldn't impude shadiness to it or anything like that, and actually you know the NSCC was reasonable…they worked with us to actually lower it. So it was unprecedented activity."
The demand was eventually dropped to $1.4 billion, Tenev said. After proposing to limit the most volatile stocks, Robinhood was able to get the NSCC to drop the number to $700 million, he claimed. "Part of what's been really difficult is Robinhood stands for democratizing access for stocks, but we had no choice in this case," he said, completing the blame-pivot to the NSCC. 
He then explained why Robinhood allowed selling, but not buying: "The fact of the matter is, people get really pissed off if they're holding stocks and they want to sell and they can't. So that's categorically worse."
"Basically, what people are wondering is did you sell your clients down the river," Musk concluded. Tenev responded by saying the cash raised will help them lift restrictions heading into the new week. "I think the question is, will the limits be high enough to the point where, they won't impact 99.9-plus percent of customers. So if someone were to deposit $100 billion and decide to trade in one stock that wouldn't be possible," he concluded.
You listen to the full interview here: