---
"People Swimming In Debt": Record Number Of Car Buyers With $1,000 Payments
The share of new auto loans with monthly payments exceeding $1,000 has hit a new record as borrowing costs continue to rise and new car prices remain elevated. Consumers are taking on too much auto debt, which could have disastrous consequences during the next economic downturn. 
Edmunds' second-quarter vehicle transaction data shows that 17.1% of consumers who financed a new car signed on for four-figure monthly payments. This now stands at a record high, up from 12.2% a year earlier. Before Covid, the figure was around 4.3%. 
"The double whammy of relentlessly high vehicle pricing and daunting borrowing costs is presenting significant challenges for shoppers in today's car market," Ivan Drury, Edmunds' director of insights, told Detroit Free Press. 

Drury continued, "The Federal Reserve's recent pause in interest rate hikes, unfortunately, didn't offer much relief for consumers, and hints at further raise later this year mean auto loan rates could even continue to increase." 
Average monthly payments also reached a new record of $733. That compares with $730 in the first quarter and $678 in the second quarter of 2022. Buyers were financed with an average APR of around 7.1%, the highest since the fourth quarter of 2007.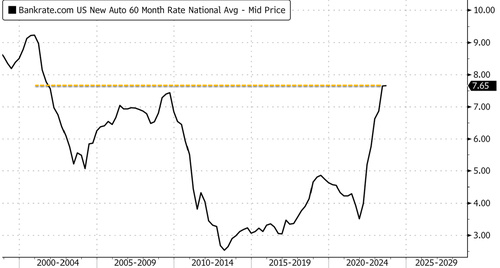 The average financed amount still topped $40,000 for the fifth consecutive quarter at $40,356. 
People are swimming in debt:

2 out of every 3 consumers who agreed to a $1,000+ monthly payment in Q2 signed up for an average APR between 8.5% and 9.6%. (via Edmunds)

🙃

— CarDealershipGuy (@GuyDealership) July 6, 2023
As for buyers who took on $1,000 monthly auto payments, about 65% of them had an average loan-term range of 67 months and 84 months, their average APR rate was between 8.5% and 9.6%. 
"There are better ways and worse ways to spend $1,000 per month on a car note," Drury said. 

He warned, "Consumers who are paying large amounts of finance charges could be in jeopardy of falling into a negative equity trap, so it's critical to come to the table with a comprehensive budget and a feel for the financing elements of a car purchase beyond the monthly payment, including the APR." 
We have explained American Drivers Go Deeper Into Debt As Inflation Pushes Car Loans To Record Highs, which might spark a crushing auto loan crisis in the arrival of the next recession. Consumers are once again trapped. It's not just us saying this -- Goldman has warned clients about the faltering consumer. 
Loading...