---
Biden Camp Celebrates Pfizer News, Warns Masks Better Option For Fighting COVID; Novovax Gets 'Fast Tracked'
Update (1000ET): Nobody was more relieved to see the Biden-Harris ticket prevail last week than Dr. Anthony Fauci (arguably, the first job that Biden saved was Fauci's). Now the good doctor is joining the vaccine market pump-fest, by telling reporters that his favorite biotech company, Moderna (which he has been pumping virtually since its first vaccine-related press release) might exhibit similarly effective results to Pfizer's vaccine.
TOP NIH OFFICIAL DR. FAUCI: MODERNA MAY SIMILAR RESULTS AS THE PFIZER VACCINE.
This, despite recently released data calling the vaccine's effectiveness into question.
* * *
Update (0910ET): Pfizer shares are now up 16% with less than a half hour to go before the open.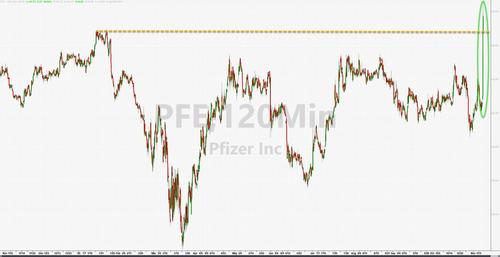 Meanwhile, for traders still turning over that "90% efficacy" figure (the fact that so many infections were in the placebo group is surely a good sign, the scientists said) in their heads, CNBC has offered some helpful points of comparison.
Some good info on CNBC showing how great 90% effectiveness is for a vaccine. How effective current vaccines are:
Measles: 97%
Smallpox: 95%
Chicken pox: 92%
Seasonal flu: 40-60%

— ForexLive (@ForexLive) November 9, 2020
Who else is ready for the 'roaring twenties' pt II?
I wrote this yesterday

IF this vaccine works and IF we get another spending package to bridge the gap between now and ppl getting it I think 2021-2022 could see a massive boom in the economy and markets

Roaring 20s are on the tablehttps://t.co/1nLMwHLQjS pic.twitter.com/ciGMdM7xed

— Ben Carlson (@awealthofcs) November 9, 2020
* * *
Update (0820ET): Adding to the positive COVID-19 vaccine news that has goosed stocks Monday morning, the FDA has officially awarded Novovax, considered a second-tier COVID-19 vaccine competitor, a "fast track" designation, while WSJ and other media are reporting that Pfizer's vaccine could get emergency approval and head into distribution by the end of the month.
NOVAVAX COVID VACCINE CANDIDATE GETS FDA FAST TRACK DESIGNATION
Meanwhile, Dr. Scott Gottlieb, appearing on CNBC, said that the data appear to be "the light at the end of the tunnel", and a "critical step" toward validating our technology. However, he added that we still have "a hard stretch ahead of us" and that we must continue to keep the most vulnerable safe.
Dr. Gottlieb added that the "timeline" for mass vaccination is late February/early March to start the process, since people need to receive multiple doses, weeks apart, before protective immunity develops. A vaccine could be "broadly available" by the end of the second quarter/beginning of third quarter.
Though that timeline might shift by a few weeks in either direction, the timeline probably won't change much assuming the FDA supplies the necessary approvals.
Also, Americans should never forget that this vaccine news is "particularly great news for black Americans".
"It's particularly great news for Black Americans. Black Americans were disproportionally impacted by the #COVID virus because a lot of African-Americans, due to lack of health care and health services, have pre-conditions," says billionaire investor Bob Johnson. pic.twitter.com/6rsIOJalnO

— Squawk Box (@SquawkCNBC) November 9, 2020
All kidding aside, this morning's news isn't exactly unexpected. The trial data effectively confirm that the vaccine process is on track, and that Pfizer still plans to apply for emergency approval by the end of the month.
As Wall Street analysts try to figure out what's going on and what this means exactly, if anything, for the long-term outlook, one team at Merrill warned that more curmudgeonly traders might soon move to send the market back to reality.
"The simply truth of the matter is that Pfizer will only be able to treat 25 million people this year, and maybe 650 million next year. Is that enough, assuming some areas reach a level of immunity to keep the virus in check? The answer is not clear at the moment. What is certainly known is that normalcy still remains out over the horizon and it will take quite a bit of time to realize the value embedded in this morning's surge in travel stocks."
Bloomberg reported that 650 million dose number, and also noted that no region will have a monopoly on vaccines; the notion that universal vaccination can be achieved by the end of next year - or even the end of 2022 - still seems pretty unlikely.
he Bloomberg story offers at least some reason for caution in pricing a swift return to normalcy. It suggests that the companies will be able to produce enough doses to inoculate 650 million people -- less than 10% of the world's population -- by the end of next year. There's no one country or region that will jump to the front of the queue for doses, meanwhile: the companies have pre-sold 100 million doses to the U.S., 120 million to Japan, and 300 million to the European Union. It takes two doses to immunize one person, so that could leave a lot of people waiting for 2022 and beyond to get access to the vaccine
Just something to keep in mind...but just in case you forget, Andrew Ross Sorkin is bringing up the fact that this is indeed "great news" about every 30 seconds this morning on "Squawk Box".
But one thing you won't hear on CNBC is Trump's role.
HUGE NEWS: Thanks to the public-private partnership forged by President @realDonaldTrump, @pfizer announced its Coronavirus Vaccine trial is EFFECTIVE, preventing infection in 90% of its volunteers.

— Mike Pence (@Mike_Pence) November 9, 2020
* * *
Update (0815ET): In a statement that effectively confirmed that this morning's WSJ leak about the Pfizer vaccine was part of a choreographed rollout by Pfizer to withhold news about the mRNA vaccine candidate's trial results until a week after the election, Joe Biden and his campaign warned Americans that the battle with COVID-19 isn't over...yet.
Though this morning's news is being heralded by news anchors as a "breakthrough" and a "game changer", Biden and his "public health advisors" - who bizarrely had apparently been given the trial results last night ahead of the public and, potentially, the sitting president (though we'll wait for any potential comment from the White House).
While the statement acknowledged that the results are indeed "excellent news", they noted that "the end of the battle against COVID-19 is still months away."
Which is why, for now, wearing a mask "remins a more potent weapon against the virus than the vaccine. Today's news does not change this urgent reality." Biden has said he is open to a national mask mandate, and with his team expected to announce its own virus task force on Monday, this news is certainly an ideal rollout for the president-elect's more heavy-handed strategy for enforcing mask-wearing and social distancing.
And although they somewhat conspicuously claimed that this news follows a "previously announced timeline", CEO Bourlas himself said just days ago that the results shouldn't be expected until later this month, only to turn around and drop the data - via a leak to WSJ, giving the company infinite room to tweak the message - days after the election.
Pfizer's own executives only learned about the development Sunday morning - mere hours before the president-elect - according to WSJ's reporting.
Statement by President-elect Joe Biden on Pfizer's Vaccine Progress

Last night, my public health advisors were informed of this excellent news. I congratulate the brilliant women and men who helped produce this breakthrough and to give us such cause for hope.

At the same time, it is also important to understand that the end of the battle against COVID-19 is still months away. This news follows a previously announced timeline by industry officials that forecast vaccine approval by late November. Even if that is achieved, and some Americans are vaccinated later this year, it will be many more months before there is widespread vaccination in this country.

This is why the head of the CDC warned this fall that for the foreseeable future, a mask remains a more potent weapon against the virus than the vaccine. Today's news does not change this urgent reality. Americans will have to rely on masking, distancing, contact tracing, hand washing, and other measures to keep themselves safe well into next year. Today's news is great news, but it doesn't change that fact. America is still losing over 1,000 people a day from COVID-19, and that number is rising - and will continue to get worse unless we make progress on masking and other immediate actions. That is the reality for now, and for the next few months. Today's announcement promises the chance to change that next year, but the tasks before us now remain the same.
Meanwhile, now that WSJ has published a few updates to its original story, we're starting to see more details from the data showing that it's not as conclusive as it might seem - as one twitter user pointed out.
Is this true?

If so, I'm not understanding this market reaction:

"Dr. Jansen said the outside board did not say how many of those cases came from participants who had been vaccinated. But with a rate of more than 90% effectiveness, most had to have been in the placebo group." pic.twitter.com/5479xDrCbD

— Otavio (Tavi) Costa (@TaviCosta) November 9, 2020
And what's more, other media outlets chasing the story are quoting Pfizer executives explicitly denying credit to the sitting president, who personally championed hundreds of billions of dollars in funding for vaccine trials, including the Pfizer-BioNTech trial, even though media reports routinely credited Trump and OWS as one of the president's most successful virus-fighting endeavors.
Meanwhile, Dow futures continue to climb, while the Nasdaq crumbles and the move back into "real economy" assets continues.
* * *
Update (0730ET): Speaking to reporters after WSJ published preliminary data from its COVID-19 vaccine trial, Pfizer CEO Albert Bourla told CNBC that the trial should be finished by the end of the month - that is, the end of November - leaving the project on track to win an emergency-use approval by the end of the year, followed by approval for widespread use early next year. Another Pfizer exec described the news in the most optimistic of terms.
"This is about the best the news could possibly be for the world and for the United States and for public health," said William Gruber, Pfizer senior vice president for vaccine clinical research and development. It was better than even the best result he had hoped for, he said.
During his interview, Bourla also attempted to shame American consumers who are skeptical about taking the vaccine (remember, polls show 42% Americans aren't comfortable with the accelerated approval process and the ability of scientists to protect against any longer-term side effects).
We understand that the trial must move "at the pace of science", but is it really possible that they have arrived at all of these conclusions over the past few days?
* * *
Christmas has come early for Pfizer and BioNTech, apparently. The US pharma giant has partnered with the German biotech firm on what is currently one of the leading - if not the leading - vaccine project in the West. And after announcing just days before the election that the next batch of critical data likely wouldn't land  before Americans head to the polls, now that the Biden-Harris ticket has prevailed, Pfizer and its partner have released data showing its vaccine is more than 90% effective.
According to data leaked to WSJ, the vaccine proved to be more than 90% effective in subjects who developed the virus and saw at least one symptom.
With markets already in a jubilent mood following the outcome of last week's election in the US, the news sent the STOXX 600, Europe's main equity benchmark, rocketing 2.5% higher. Shares of Pfizer also gained 6% on the news, while shares of BioNTech shot up 14%.
US benchmarks rallied, led by the Russell, as the value-rotation trade was back on...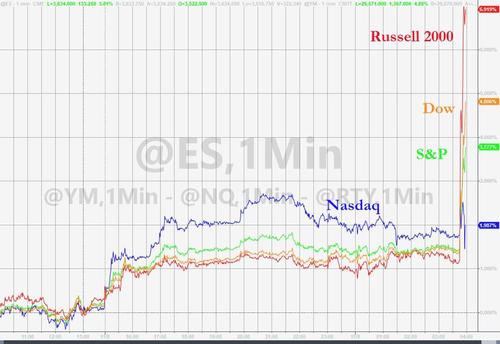 ...shares of the Nasdaq tech giants that led the market during the worst of the lockdown were seeing their shares ebb once again.
Yields moved higher on the news.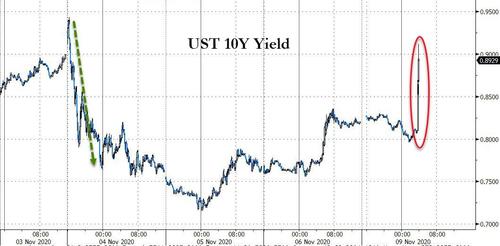 Brent Crude even saw its biggest intraday move since June on the report, which has elicited an extremely positive reaction in the market, a sign that investors see this as nothing short of a breakthrough in the battle against COVID-19.
Meal-kit provider HelloFresh dropped 13%, making it the worst performer in the Stoxx 600 as the rest of the market surged.
Unlike the AstraZeneca-Oxford vaccine, which ran into some still only vaguely explained delays, the Pfizer-BioNTech vaccine relies on messenger RNA technology, which effectively encodes immunity to the virus directly into human genes.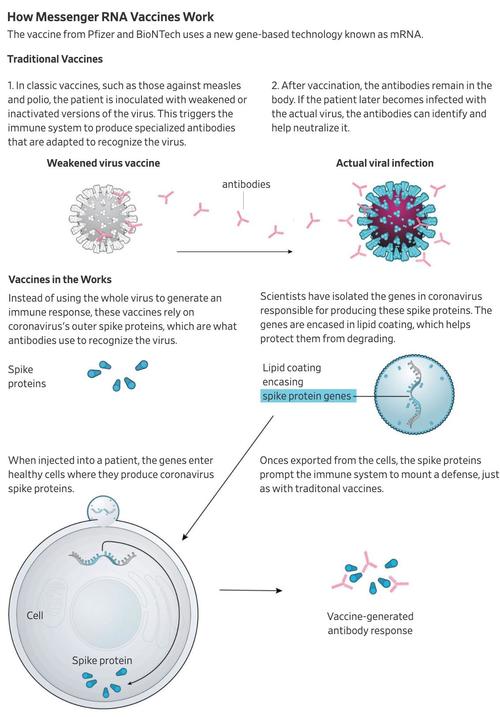 Source: WSJ
In summary: Biden in, COVID out.