---
Philadelphia Has Had At Least 140 Carjackings This Year So Far, Double The Year-To-Date Total From 2021
Philadelphia's carjacking problem is reaching new heights in 2022, according to reports by Brietbart and the Philadelphia Inquirer. 
So far this year, there have been "at least" 140 carjackings in the city - an average of between 4 and 5 per day, every day, so far in 2022. 
The 140 number is already "double the year-to-date total from 2021", according to the reports. The number had stood at "at least" 90 carjackings in the first two weeks of the year and "over 100" in the first three weeks of the year. 
2022's carjacking pace is "seven times the pace reported at the beginning of 2020," the Inquirer reported.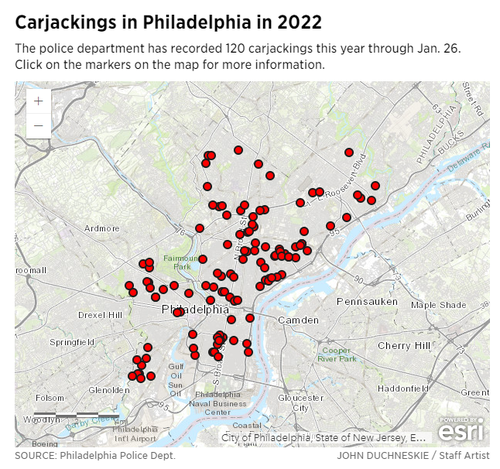 Police think "it's a small group of criminals that are responsible for the majority of carjackings in the city, and they say social media is a driving force," according to CBS. Police believe the perpetrators are between the ages of 14 to 24.
"Some carjackings that are getting social media attention are leading to other carjackings and that's predominantly where a lot of juveniles are coming into play. We think they have been making somewhat of a spectacle or game at keeping score outta something like this," concluded Philadelphia Police Deputy Commissioner Ben Naish.