---
Planned Layoffs Are Up Fourfold So Far This Year
Companies announced a staggering 417,500 planned layoffs for the first five months of 2023. This is a massive acceleration and more than four times the job cuts compared to last year, according to Bloomberg, citing a report from outplacement firm Challenger, Gray & Christmas. 
Disregarding early 2020, when Covid impacted the labor market, the total number of planned job cuts through May is the highest since 2009.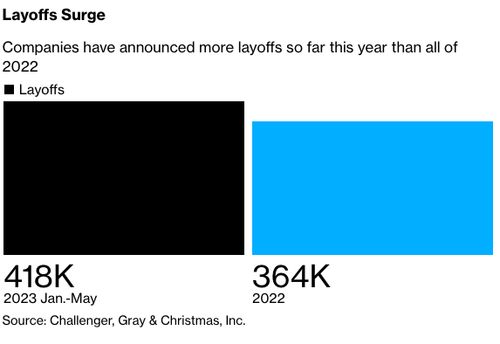 Challenger found most layoffs occurred in the tech industry, announcing 136,800 cuts for the first five months. That came close to eclipsing the full year of 2001 when the tech industry hemorrhaged 168,400.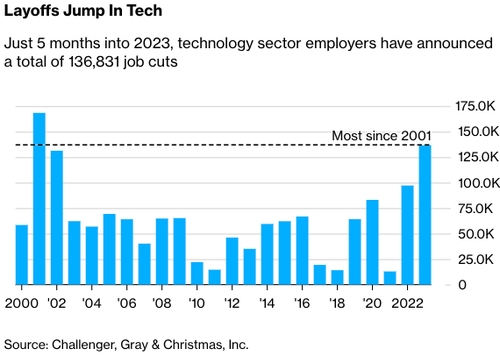 Job cuts are beginning to spread like cancer from tech to other industries, including banking, retail, and media sectors. Challenger said the media industry announced 17,400 job cuts so far this year. Banking has seen a surge in layoffs. Financial firms announced 37,000 job cuts through May, more than four times the number compared to last year. 
The Federal Reserve's 14 months of aggressive interest rate hikes have led companies to reign in costs. Challenger said many firms have embarked on a hiring freeze due to mounting macroeconomic headwinds and increasing risk of a slowdown later this year. 
Large-scale job cuts will likely continue as Challenger data shows layoffs rising at 287% YoY...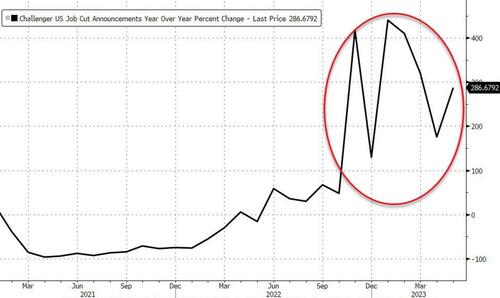 The outplacement firm reported around 3,900 jobs were lost to artificial intelligence. And the number of jobs displaced because of AI is likely to accelerate. A Goldman report recently estimated tens of millions of jobs could be lost due to AI in the coming years.  
One job recruiter recently warned on Yahoo Finance TV that the tech layoff cycle is "not done yet." 
Loading...