---
Powell Admits "Low Rates Are Not A Choice Any More", Says QE Will Be Used In Next Downturn
Instead of Powell bloviating before Congress for hours every six or so months while discussing his social life and avoiding answers to questions that really matter, it would be a much better use of everyone's time if C-SPAN and congress just showed two charts which explain everything one needs to know about what really matters to the Federal Reserve, and why it can never again allow price discovery to take place.
The first chart is the following: it shows that private US financial assets (i.e., the stock market) is now 5.6 times US GDP and any sizable drop in the stock market would lead to an almost instantaneous depression. It also explains why the Fed can never again allow true price discovery as the opportunity cost is the collapse of trillions in "financial wealth", a catastrophe for the US economy, and the end of American life as we know it.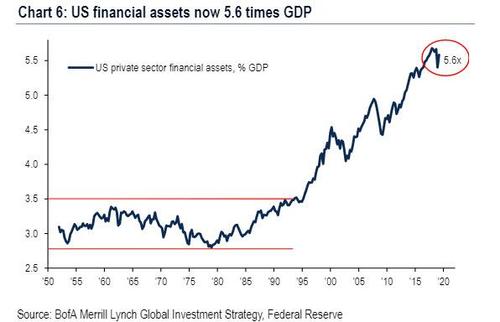 The second chart is the latest CBO long-term debt forecast: while it needs no explanation, SocGen's Albert Edwards did "explain it" calling it a "ticking timebomb", because as the notional amount of debt set to explode in coming years, any sharp increase in the interest rate will lead to an almost instant financial crisis and potentially the loss of the dollar's reserve currency state. The point is simple: as in the case above, the Fed can never again stop manipulating interest rates as the alternative would mean a debt cataclysm as the amount of debt outlays for both the public and private sectors, soar.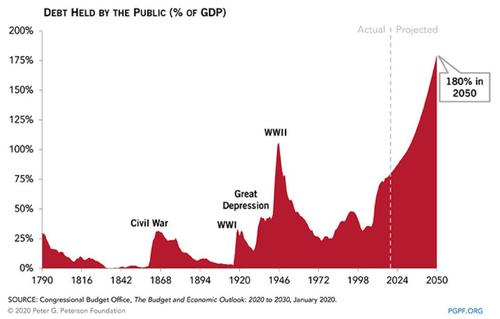 Alas, none of this was discussed, although when testifying before the Senate today, Powell did come close to admitting the dire conclusion these two charts suggest when he unexpected admitted that "low rates are not really a choice any more", because any jump in rates will lead to financial instability if not outright catastrophe which means the Fed is now stuck in the current abnormal regime; it also explains why in the same breath Powell said that the Fed may need to return to forward guidance and QE, and these tools "will be used aggressively if needed."
POWELL: FED LIKELY TO NEED QE, FORWARD GUIDANCE IN A DOWNTURN
POWELL: FED WILL USE TOOLS AGGRESSIVELY IF THEY ARE NEEDED
And, as the first chart above indicates, "they will be needed" any time there is even a modest correction in a world in which the artificial prices in the US stock market make up the bulk of global "assets."
So much for the recurring laments that monetary policy no longer effective: ironically, instead of central banks handing over stimulus to governments, the opposite is happening, and the next recession will see a supernova burst of money printing from every single central bank to keep asset prices elevated as the alternative is basically game over.
Besides explaining why the Fed has no choice but to intervene after even the shallowest of market dips going forward, Powell also mused about the second chart above, i.e., the exponential increase in US debt/GDP as predicted by the CBO.
.@SenatorTester asks #Fed Chair Powell: US debt=$23 trillion. When do u get concerned?

Powell: "It's v hard to say at what level u get concerned. I would say I would be concerned now. It's really the rate of increase. What we need to do is have debt grow slower than the economy" pic.twitter.com/ASdQskLlnf

— Heather Long (@byHeatherLong) February 12, 2020
Obviously none of this increase would have been possible without the record low interest rates sparked by Fed intervention. That however was lost on the Fed chair who instead of telling the truth for once, decided to fall back on trite talking points, saying he "would be concerned now" about the level and trajectory of US debt:
POWELL SAYS HE WOULD BE CONCERNED NOW ABOUT THE LEVEL OF U.S. DEBT
POWELL: NEED FEDERAL DEBT GROWTH TO BE SLOWER THAN GDP GROWTH
He "would be concerned"... but isn't, even as he said that "20 years from now, we'll be spending those tax dollars - our children will be spending those tax dollars - on servicing the debt rather than on the things that they really need." And visually: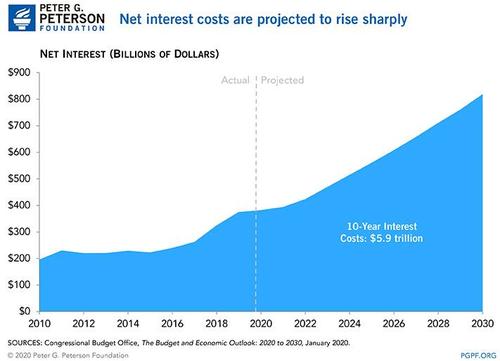 Finally, completing the farce, the Fed whose policies have led to unprecedented wealth inequality, have converted the US into a banana republic...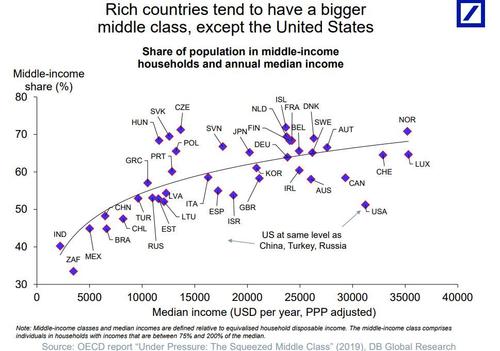 ... and have made the 2020 presidential election into a race between Trump and Bernie Sanders, also had some "brilliant" insight on (the lack of) prosperity and wealth inequality, that he has helped propagate:
POWELL: MAKING SURE PROSPERITY IS WIDELY SHARED IS 'IMPORTANT NATIONAL PRIORITY'
POWELL: INEQUALITY DRIVEN IN PART BY GLOBAL TRENDS
At least we now know that "global trends" is the name of the Fed's money printer.