---
Powell Kills March 50bps Rate Hike, But Leaves Door Open For Later In 2022
Rest in Peace 50bps March rate hike.
Moments ago, Fed Chair Powell said that he is "inclined to support a 25 basis point rate hike" in March, which immediately killed any market expectation of a 1+ rate hike in two weeks.
However, in the very next sentence, Powell said that if inflation stays hot, he could move more than 25 basis points at upcoming meetings, which in turn pushed the full year rate hike expectations sharply higher, from 5.2 to 5.6.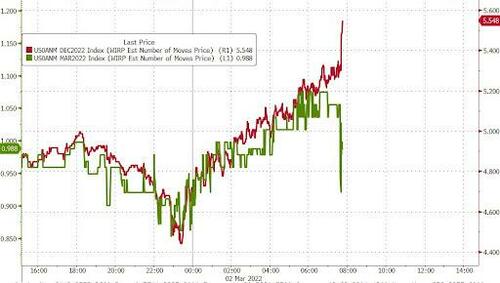 Of course, this is not the end of this story, and should oil continue to surge - and it will - unleashing inflationary shockwaves and crippling global growth, expect this hawkish consensus to once again unwind... but not yet, because as noted earlier, the VaR shock in the STIR space is now in full-blown reverse mode, with Dec 2022 ED futs collapsing and undoing their entire Tuesday move...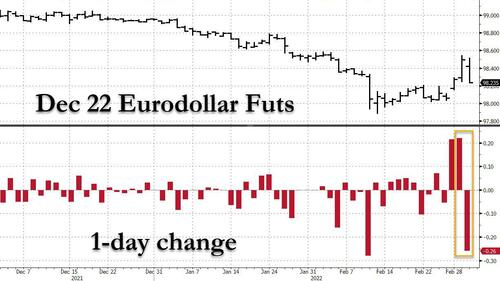 ... even though absolutely nothing has changed in the past 24 hours. More remarkably, looking at the Eurodollar strip, today is shaping up as an even bigger hawkish "surprise" reversal than the July 2013 taper tantrum.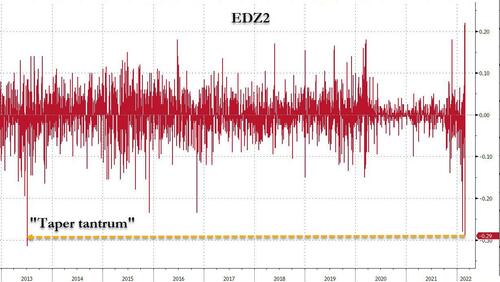 Finally, what all of this means is that bond market volatility is exploding, and assuring that the Fed will have to be on its toes as any geopolitical news can spark a liquidation or short-covering frenzy in a bond market where there is now also virtually no liquidity.