---
PPT Rescues S&P From Worst-Ever Start To A Year; Rate-Hike Odds Tumble
Tl;dr:
If you just woke up, it was a quiet day: the VIX and 10Y yield are unchanged and the S&P is just 0.3% higher.

— zerohedge (@zerohedge) January 24, 2022
But, at its lows today, the S&P 500 had never - ever since 1920 - started a year as badly as 2022...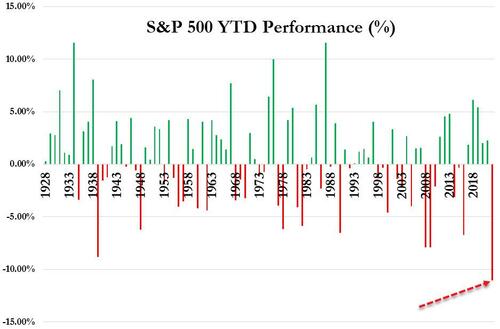 That's quite a record to break, and has sparked the hope in many that this kind of tumble in stocks will force The Fed's hand to pivot back to its traditional role of levitating stocks (we saw a sudden and big bounce intraday today which reminded us the gold ol' days of the PPT)... Nasdaq was down 5% before its exploded higher back into the green and Russell 2000 ripped from down 3% to up almost 3%...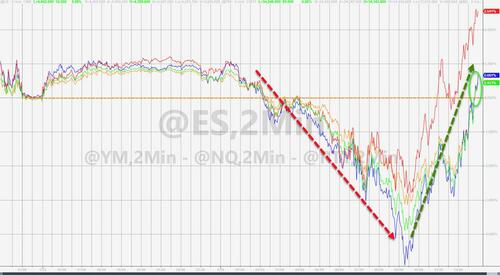 The S&P was unable to get back to its 200DMA however...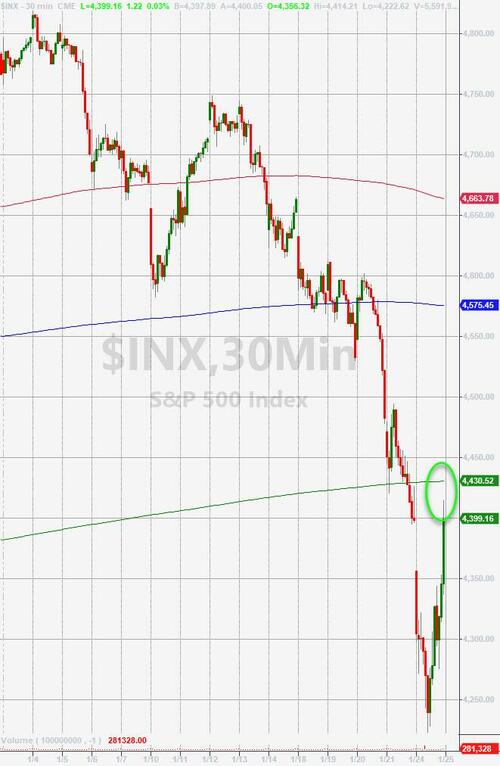 Behold The Dow's 1400 point rebound...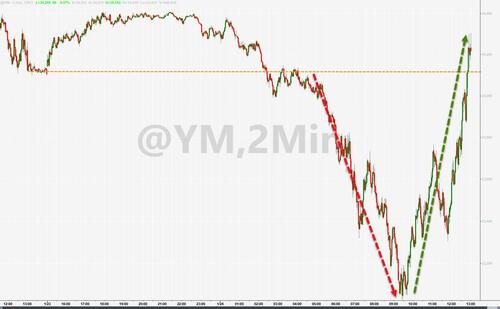 At its worst today, the S&P 500 was down just shy of 4% before rebounding dramatically to end up almost 0.5% on the day.
The last two times that the S&P 500 dropped 4% and rebounded into the green were as follows...
Oct 16, 2008 = down -4.63% and closed up 4.25% - EU, US, Japan coordinated action to guarantee bank financing, Paulson shifts TARP to buying equity in banks

Oct 23, 2008 = down -4.28% and closed up 1.26% - Fed bailed out MM funds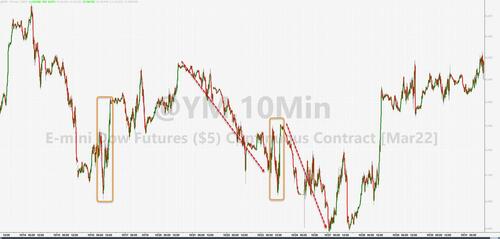 Things did not end well...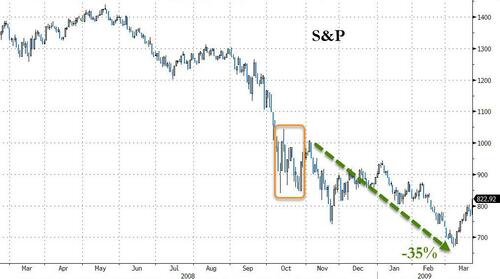 And today's volume was almost unprecedented...
Holy moly, $SPY traded over $100b worth of shares for only second time ever (3/2/2020 was other time), which is more than top 4 stocks combined. And $QQQ smashed its record with $66b (set Fri lol). If you combine the two, they did $170b, which is all time record, here's chart: pic.twitter.com/4QfhFeAkVx

— Eric Balchunas (@EricBalchunas) January 24, 2022
But do not forget, The Fed has "never tried to manipulate the stock market..."
The S&P and Dow were rescued from official 'correction' today while Small Caps rebound lifted them out of a bear market...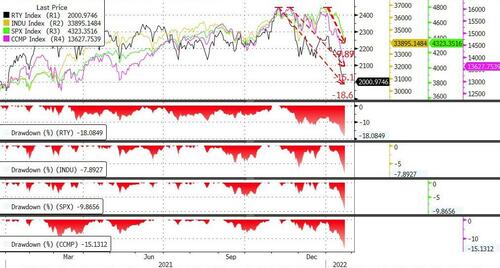 Source: Bloomberg
But things are a little different this time. As Goldman's Chris Hussey notes, stock markets have not had to deal with a Fed raising rates out of inflation concerns for almost 30 years.
As a result, the confidence that markets built up that they could act as a bully pulpit to the Fed and sell off to change Fed policy may be eroding in the current environment.

While in the past, tighter financial conditions caused by a market sell-off may have been enough for the Fed to curb its hiking cycle, such an environment may not have the same effect when the Fed is looking to curb inflation, not runaway growth.
But for now, just as we wrote earlier, the stock market's accelerating slide has prompted traders to adjust (dovishly) their rate-hike trajectory expectations...
Source: Bloomberg
And compared to Dec 2018's drop in financial conditions - which prompted Powell's rapid reversal - markets this time have a lot further to go...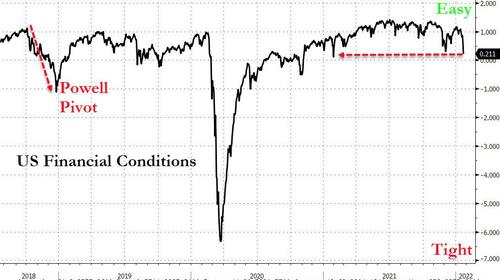 Source: Bloomberg
VIX surged to its highest since Oct 2020 (before reversing rapidly - but still holding above 30 and around the same levels that it reached before Powell pivoted in 2018)...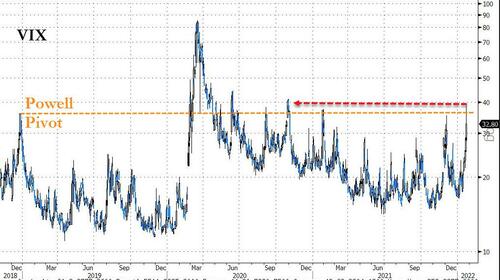 Source: Bloomberg
This is the biggest inversion since the COVID crisis crash in March/April 2020...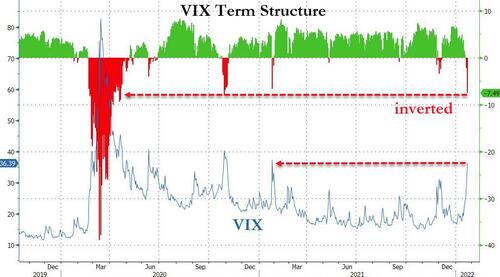 Source: Bloomberg
Before we shift away from stock-land, these charts are worth some mockery...
Unprofitable tech was panic-bid back into the green today...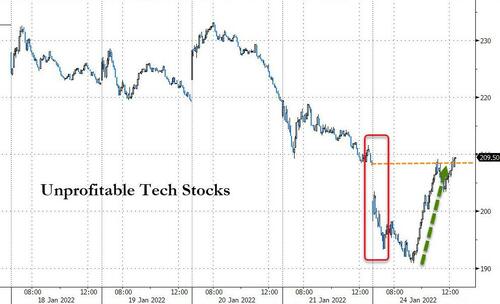 Source: Bloomberg
As was Cathie Wood's ARKK...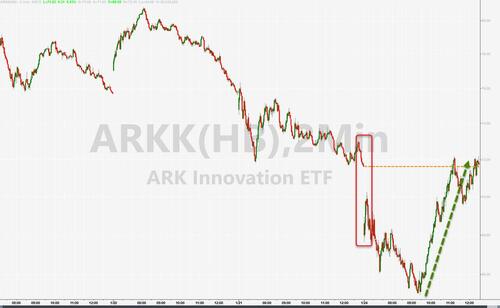 Source: Bloomberg
"Most Shorted" stocks ramped over 8% off the intraday lows to get back into the green...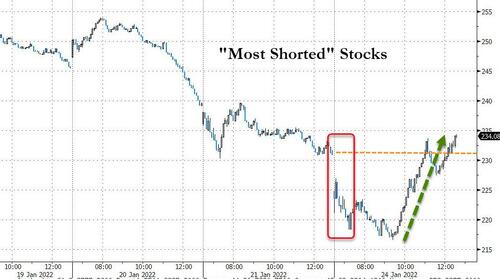 Source: Bloomberg
Treasuries were strongly bid overnight, led by the belly of the curve, but around 1330ET bond-sellers rushed in, pushing the long-end yield higher on the day (short-end outperformed)...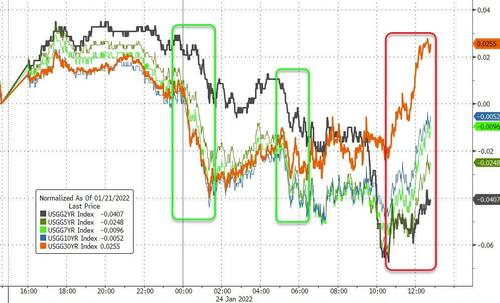 Source: Bloomberg
The dollar extended its rebound today, closing back in the green for 2022...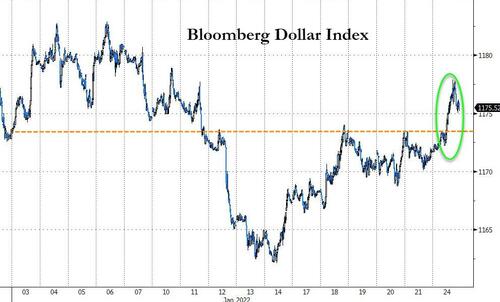 Source: Bloomberg
Bitcoin followed a similar pattern, dumped overnight to a $32lk handle at its lows then as rate-hike odds dropped, crypto ripped higher, back above $36,500...
Source: Bloomberg
Oil prices ended the day lower, but like everything else bounced hard (off $82.00)...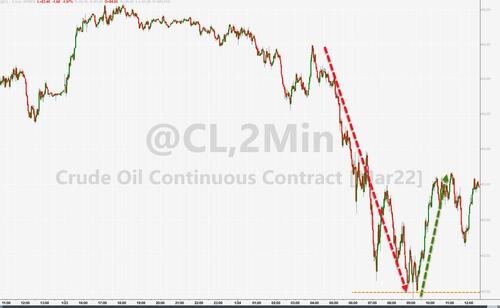 Which means higher prices for gas at the pump are imminent...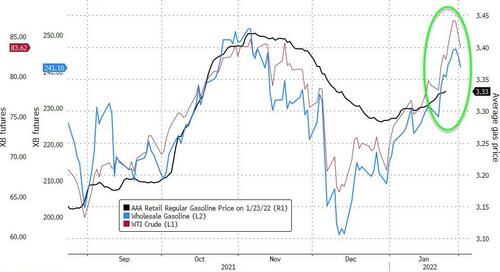 Source: Bloomberg
Gold followed the same pattern of early liquidation followed by panic-biddery...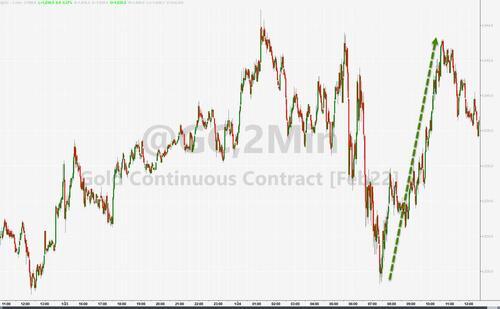 Finally, we note that while today was the official start of the "buy back bid" as corporates exit the black out window, buyback-related stocks did not seem to be the drivers of the rebound...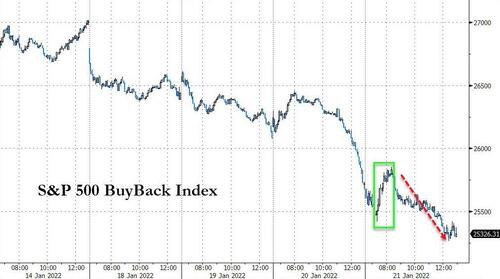 Source: Bloomberg
Did Mr.Powell get back to work?