---
Prepare For "Major Accidents" In The Market; Morose Milken-ites Warn "We're Going To See Losses"
Bad loans, worse banks, but "it's not nearly as bad as it was in 2008" if you believe Charlie Munger.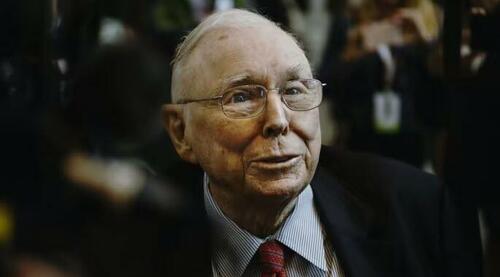 Having admitted over the weekend in an interview with The FT that American banks are "full of" what he said were "bad loans", thanks to the plunge in commercial property prices, the 99-year-old warned ominously that "trouble happens to banking just like trouble happens everywhere else. In the good times you get into bad habits... When bad times come they lose too much."
Quite notably, while the Biden administration is deftly attempting to paint SVB, SI, and now FRC as "outliers" and "unique", the latter is far from 'unique' and that is a problem as Munger later noted that "it's not that damned easy to run a bank intelligently, there are a lot of temptations to do the wrong thing."
Karine Jean-Pierre says they are "very confident" no more banks will fail — despite the second-, third-, and fourth-largest bank failures in history happening during the Biden presidency. pic.twitter.com/KnAXVuMaOK

— RNC Research (@RNCResearch) May 1, 2023
More specifically, their loan books are now plagued with CRE loans (a topic we warned about extensively - before the mainstream media picked up the torch).
"A lot of real estate isn't so good any more," Munger said.

"We have a lot of troubled office buildings, a lot of troubled shopping centres, a lot of troubled other properties. There's a lot of agony out there."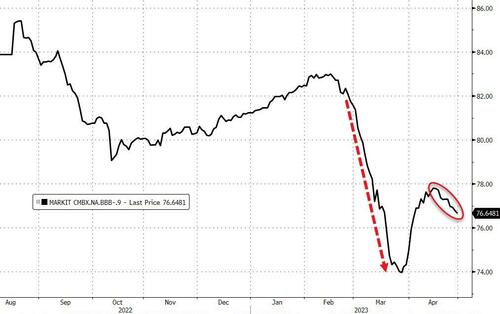 And while the grumpy old man has slammed bitcoin (we don't blame him for not understanding that), he is certainly far more versed in the details of commercial property loans and banking, which is why we take him seriously and at today's Milken Conference, Munger's message was echoed loud and clear by investment leaders from Apollo's Marc Rowan to Cain's Jonathan Goldstein and Citi CEO Jane Fraser.
"It's a bad day to be an office owner in San Francisco and Chicago," Marc Rowan, co-founder and chief executive officer of Apollo, said Monday.

"We are going to see losses," he said, adding that the stresses will be concentrated and not systemic.
"Every piece of real estate, everywhere in the world, that was purchased pre-the run up in interest rates, as a result of the change in interest rates, is now worth less," Rowan continued.
"It does not mean it won't come back. It does not mean it won't ultimately be a good investment, but in the short term, we have significant dislocation."
David Steinbach, global chief investment officer at real estate investment firm Hines, said Monday during one panel that commodity office buildings - older office buildings that lack amenities - would face particular pain, with Amherst CEO Sean Dobson pointing to office towers in central business districts as a particular rough spot for the industry.
"I do think we've got a period of pain and I don't think we've yet reached the bottom of that," Cain's Goldstein said.

"But there will be opportunity that comes out when people do begin to sense that the bottom's been reached."
As Bloomberg reports, Fraser said she's most worried about real estate with debt that's been packaged into lower-rated commercial mortgage-backed securities.
"It's the return-to-office phenomenon that's driving it," Fraser said Monday during a panel discussion at the Milken Institute Global Conference in Beverly Hills, California.

"We're not talking about the local doctors' office, we're not talking about all of the office space either."
Finally, TCW Group President and CEO Katie Koch warned that cracks are starting to show in the private credit market and that investors should prepare for "major accidents" in the red-hot sector over the next 12 to 18 months. 
"We have had five years where 'diligent light' became a term," Koch said.

"That is not going to be fun over the next five years if you arrived at it from that perspective."
Koch said investors should be "very underweight" regional banks.
"The globally systemically important banks are a good place to be invested," Koch said.

"Regional banks is an area we are concerned about because of deposit flight, and also they have the highest exposure to commercial real estate, which is an area we are concerned about."
Marc Cowan had perhaps the most important comment though for 'average joe' and his 401(k), warning that "equity has adjusted somewhat, but not nearly as much as credit."
Loading...