---
"Price Erosion" Weighs On Used Car Prices For Second Consecutive Month
Wholesale used-vehicle prices cooled for the second consecutive month. Sales of used vehicles have slumped as the price affordability crisis persists due to elevated prices and high borrowing costs. 
According to figures from Cox Automotive, the Manheim Used Vehicle Value Index (MUVVI) fell by 2.7% in May from April to 224.5. This marks the second consecutive monthly decline and the lowest level in the index since January.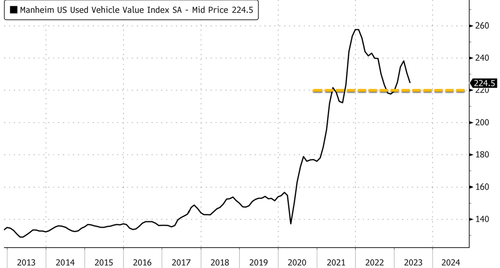 "Price erosion continued in May, with another month-over-month drop in the index bringing it 0.3 points below our January result," said Chris Frey, senior manager of economic and industry insights for Cox.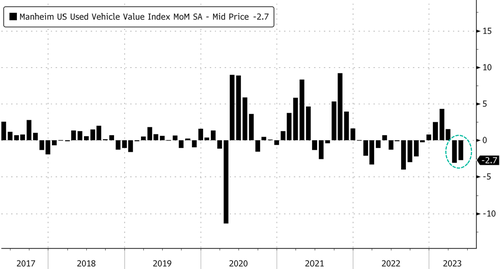 "Taking a longer view, May's year-over-year decline accelerated from April and March," Frey pointed out.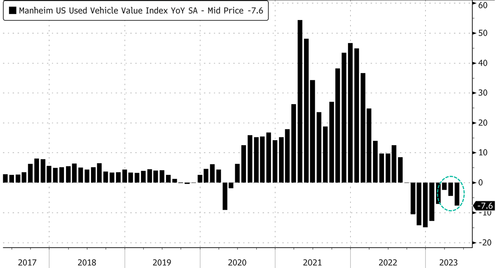 However, he noted, "The rate of decline might slow over the next several months as we encounter the lower prices seen at auction from May through November last year. Two consecutive reads in either measure do not a trend make, as used retail inventory is still below last year, and that tends to keep buyers at the auction, supporting prices."
Cox showed used car sales slid 11% year-over-year in May as affordability wanes. Consumers are forking out an average of $28,381 for a used car in the first quarter, which is considerably higher than the $19,657 level five years ago. And many Americans are stuck with $1,000 monthly payments (some of which can't afford).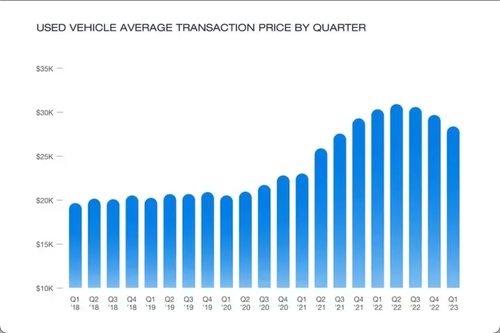 Based on Bankrate data, borrowing costs for used cars have spiked to an average rate of 7.69%, the highest level since September 2009.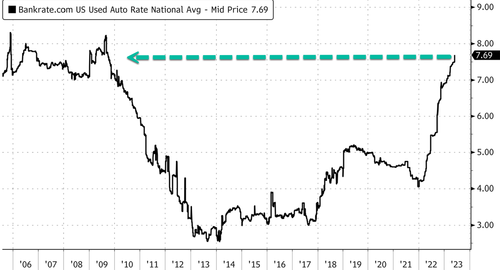 The declines in sales and wholesale prices signal continued cooing of the used vehicle market. A win for the Federal Reserve's battle against high inflation but comes at the cost of many consumers who have been priced out of used and new car ownership. As noted before, purchasing a new car is becoming a luxury for only the wealthy. 
Loading...