---
"Priced To Perfection" Microsoft Smashes Expectations, But Shares Barely Budge
Yesterday, Bank of America said that Q3 earnings season "smacks" of the tech bubble because just like in Q1 2000, when companies beat top and bottom line expectations, their stock was not rewarded and in fact, was penalized as all the good (great) news had already been penalized.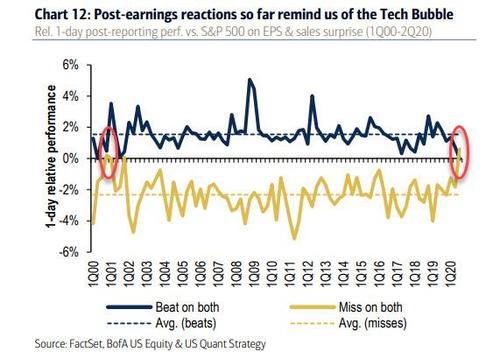 Moments ago we got a vivid example of just that when Microsoft reported Q3 earnings which blew away expectations, and the stock first spiked but then... dropped
Here is how Microsoft beat expectations across the board for Q3, on both the top and bottom line:
Revenue of $37.15 billion, smashing the consensus estimate $35.75 billion, and beating the highest sellside foecast of $36.40 billion
EPS $1.82, also beating both the estimate of $1.55, and the highest forecast of $1.61, and well above the $1.38 reported last year.
Intelligent Cloud revenue $12.99 billion, +20% y/y, estimate $12.78 billion
Productivity and Business Processes revenue $12.32 billion, +11% y/y, estimate $11.85 billion
More Personal Computing revenue $11.85 billion, +6.4% y/y, estimate $11.27 billion
Microsoft has benefited from the covid pandemic, which has accelerated a shift to Microsoft's Azure cloud computing services and online subscriptions to Office software that comes with teleconferencing programs and and work-from-home tools. That's helped shore up growth at the company, which boast the #2 cloud infrastructure behind Amazon Web Services.
As shown below, Azure revenue rose 48%, an improvement on the 47% gain in the prior quarter, and stronger than the 45% estimate. That said, Azure revenue was doubling each quarter just three years ago, and as Bloomberg notes, the slowing growth rate has been a source of concern among investors.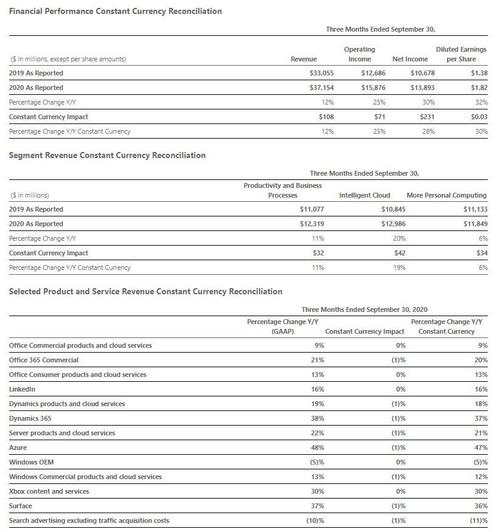 Sales of video games have also been boosted as people look for ways to pass the time while stuck at home. That's made up for weaker one-time software purchases by smaller businesses and consumers. Indeed, within personal computing there was some good news:
Xbox content and services revenue increased 30%
Surface revenue increased 37% (up 36%in constant currency)
And some bad news:
Search advertising revenue excluding traffic acquisition costs decreased 10%
Windows OEM revenue declined 5%
And yet, despite the strong earnings, MSFT initially spiked before slumping to session lows, which however may have triggered some BTFDing as MSFT was virtually unchanged at last check.