---
Publicly Funded PBS Joins NPR In Quitting Twitter
First, it was the National Public Radio (or is that Ratio) that stormed off Twitter in a huff after being declared "government-funded media" (it says it right there in the company's title folks, National and Public) and now it is another Public (as in non-private) company that doesn't like being called out for what it is that has decided to make a dramatic exit stage left: the Public Broadcasting Service has followed National Public Radio in rage quitting Twitter after the social media network labeled both organizations as government-funded media.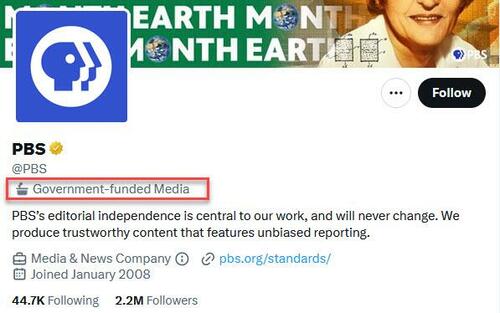 "PBS stopped tweeting from our account when we learned of the change and we have no plans to resume at this time," PBS spokesman Jason Phelps said in an email. "We are continuing to monitor the ever-changing situation closely."
The spat began after Twitter tagged NPR as "state-affiliated media," a description it also uses for propaganda accounts from Russia, China and the UK. Twitter later changed the wording to "government-funded media," but the organization has called the description inaccurate and misleading because it's a nonprofit group with "editorial independence". Needless to say, many disagree, with some pointing out that NPR has had a clear pro-Democrat bias in its reporting...
Remember when @NPR released an article stating that "right wing extremists" were deliberately running over protestors? pic.twitter.com/UIEKkdXj3a

— Tiffanie Tx (@tiffanie_tx) April 12, 2023
They literally said they refused to air Trump's post-indictment speech last week because they didn't want to subject their audience to Trump's "political propaganda." How is @NPR not a state agent? pic.twitter.com/z6vpYXmE0X

— Chris Stigall (@ChrisStigall) April 12, 2023
But then how will @npr alert us about their refusal to report on stories that are bad for Democrats? https://t.co/1wQIayshFj pic.twitter.com/uRLoyhq3WD

— Mark Bednar (@MarkBednar) April 12, 2023
... while others noting that the company is a whopping 11% taxpayer-funded in response to yet others (mostly Democrats) who object to Elon Musk's claim, stating that NPR only "gets a small fraction of its funding from federal agencies" (spoiler alert: 11% is not small, just ask the company's recently laid off 84 staffers).
Nope: it's 11% of taxpayer funded dollars. Do your research. https://t.co/w2CiNJq4tl

— Wendell Husebø (@WendellHusebo) April 12, 2023
"Guess they won't mind losing federal funding in that case," Musk said in one tweet. "Defund NPR," the billionaire wrote in another.
As for PBS dropping twitter for being called out for what even its Wikipedia entry says is a "publicly funded nonprofit organization", we are confident it will more than make up for it by making Sesame Street super extra woke and urging its 5 year old viewers to get a 5th booster shot...
Elmo, Now Vaccinated, Advertises COVID-19 Vaccine Shots For Children Under 5 https://t.co/rrxqlyisqz

— zerohedge (@zerohedge) July 1, 2022
Elmo Dies Of Myocarditis After Receiving COVID Vaccine https://t.co/0DohiP8oRc

— The Babylon Bee (@TheBabylonBee) December 7, 2022
... or chemically castrate themselves post haste.
Loading...