---
Putin Bans Cash Exports From Russia Exceeding $10,000 In Stabilization Effort
Russia said Tuesday it's not yet fully responded to the avalanche of Western and US sanctions of the last days which were triggered in the wake of the invasion of Ukraine. Foreign Ministry Spokeswoman Maria Zakharova warned that the populations of the West have not yet begun to feel what's coming. 
"They (people in the West - TASS) know why they have such prices on energy sources. They know what is going on in various sectors of their economies and they understand that their leaders, who opted for this choice, have triggered corresponding processes in their own countries and must understand that," she said during an interview with a Russian state broadcaster. "I would like to note once again: Russia has not yet imposed response measures," she emphasized.
But Russia has initiated further financial stabilization efforts amid the ratcheting economic war from the West. Confirming his statement from yesterday that we discussed as likely to prompt an immediate bid for the 'freedom' of crypto, Putin late in the day Tuesday (local time) issued a decree banning all cash exports of foreign currency that exceeds $10,000 in value, according to Reuters citing a Kremlin statement in Interfax.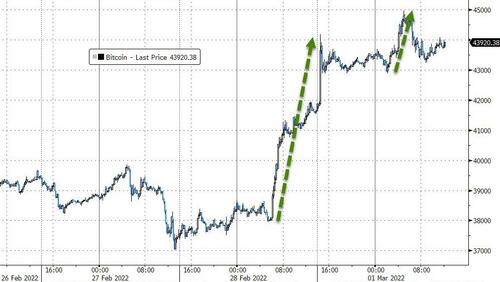 Russia's central bank simultaneously announced it's ready to take "all necessary measures" to maintain financial stability as Russian assets keep getting hammered, including the ruble diving to a two-year low over the past days.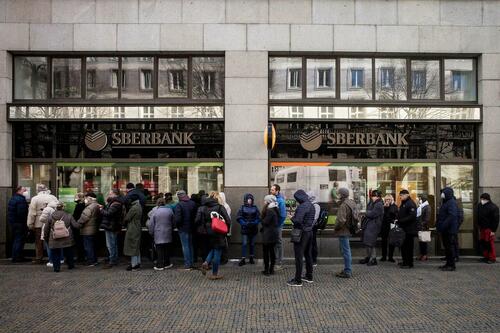 Now a week in to Putin's "special operation" which has clearly become an overwhelming, all-out war to take over Ukraine, "The Bank of Russia is keeping the development of the situation on the financial market under control and is ready to take all necessary measures to support financial stability," the bank said in its Tuesday statement.
Meanwhile, in what's sure to bring more economic pain for the Russian people, The Moscow Times reports that "American retail giants Nike and Apple have temporarily stopped sales on their Russian online stores after sweeping sanctions, the crash in the ruble and airspace bans hit their ability to bring new products into the country."
The announcement suggests that more and more Western products which haven't necessarily been formally targeted with US or EU sanctions now face even practical level logistical issues of merely getting their goods into Russia. 
Loading...