---
Rabo: The Second Largest Chunk In The Covid Bill Is Helicopter Money
By Philip Marey, senior US strategist at Rabobank
The Strain
The highly contagious new strain of Covid-19 that is spreading through the UK continues to undermine market sentiment. Despite an almost $900 billion US fiscal stimulus package approved by both the House of Representatives and the Senate the 10y US treasury yield stood at 0.92% this morning. Countries are closing their borders to the UK and global economic growth is facing another threat. While the vaccines are arriving, the road to the exit remains dark and bumpy.
While President Trump still has to sign the new Covid relief bill into law, the real hurdles – the House and the Senate – have been taken. So what's in the package? The largest chunk is aimed at small businesses ($325 billion). The bulk of this is made available for the Paycheck Protection Program ($284 billion). There will also be $20 billion available for target Economic Injury Disaster Loans for small businesses and $15 billion for live venues, independent movie theaters, and cultural institutions.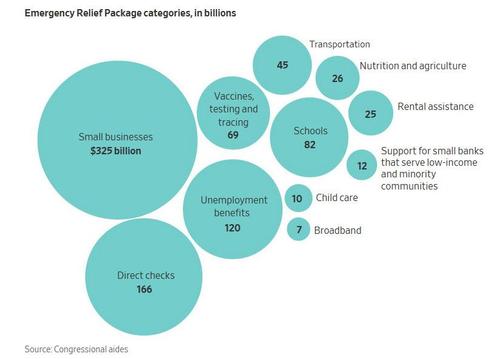 The second largest item is helicopter money ($166 billion). Direct checks will be sent as soon as next week according to Mnuchin. The checks will be $600 per individual, i,e, $600 per adult and $600 per child. The amounts will be decreasing for individuals with more than $75K in income and couples earning more than $150K. Democrats and especially the White House pushed for direct checks. However, this is smaller than the CARES Act checks which provided $1200 for adults and $500 for dependents.
The third largest item are federal unemployment benefits ($120 billion). Enhanced federal unemployment benefits (Federal Pandemic Unemployment Compensation) of $300 per week will be available for 11 weeks. What's more, the federal program that extends the eligibility of unemployment benefits to for example the self-employed (Pandemic Unemployment Assistance) will be extended until it begins phasing out in mid-March. Also, the federal program that extends the duration of unemployment benefits (Pandemic Emergency Unemployment Compensation) will be extended until it begins phasing out in early April.
The package also has $82 billion for schools, including $54.3 billion for K-12 schools and $22.7 billion for higher education. There will be $69 billion for vaccines, testing and tracing. This includes $30 billion for vaccine procurement and distribution and $22 billion for testing and tracing of the coronavirus. There is $45 billion for transportation, including $15 billion for airline payroll support, $14 billion for transit systems, $10 billion for state highway funding, $2 billion for airports, $1 billion for airline contractors and $1 billion for Amtrak. There will be $25 billion for a new emergency rental-assistance program. The agreement extends an eviction moratorium until January 31.
Among the smaller items, there is $13 billion for nutrition, $13 billion in farm aid, $12 billion for small banks that serve low-income and minority communities, and $10 billion for child care assistance to help get parents back to work and keep child care providers open. Finally, there is $7 billion for broadband internet access, including $3.2 billion for a new temporary benefit program to help low-income Americans get access to broadband services and $1.9 billion to replace telecom network equipment that poses national security risks.