---
"Real Dick Move": Apple Has Allegedly Fired Contractors As Tech Layoff Wave Worsens
The tech sector layoffs continue. Tech giants such as Amazon, Google, Meta, and Microsoft have fired tens of thousands of workers. Now there's word that Apple has quietly reduced its headcount of 'contractors,' according to NYPost, citing people with direct knowledge. 
NYPost said Apple fired hundreds of contractors last week. These workers are employed by outside companies but work alongside Apple employees on projects. It appears Apple is reducing headcount as the macroeconomic environment remains challenging. 
Here's what one of the NYPost's sources said:
Instead of waiting for contracts that are typically renewed every 12 to 15 months to expire, Apple is firing contractors outright, sources said. One contractor claimed to have been blindsided, saying Apple management had assured him that all jobs were safe. Only a few weeks earlier, some had been gloating that Apple hadn't overhired like other tech companies, the source added.
The news comes after 1,045 tech companies last year fired 161,000 employees in 2022. So far this year, 380 companies have fired 108,000 workers, according to the jobs tracking website Layoffs.fyi. 
Despite all the layoffs, technology-heavy Nasdaq had one of its best months in the last two decades. 
We pointed out tech layoffs are accelerating through the first quarter. Here are the latest tech layoffs over the last 12 months.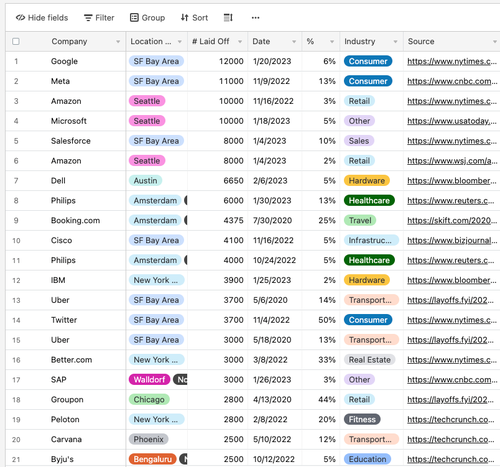 Meanwhile, Apple CEO Tim Cook recently said layoffs are a "last resort kind of thing." But sources said the firing of contractors is not firing employees. This means Apple doesn't have to pay severance or face potential litigation from ex-employees. 
Here's what people are saying on the anonymous job website Blind about Apple's move to axe contractors:
"Gotta say it's a real dick move to cancel a contract BEFORE it's expiration date. They can't afford to wait a couple months? What's even the point of taking a job-insecure contract with Apple if they can't guarantee you'll actually stay for the duration of the contract, performance problems excluded?" one person said. 

"I've been offered contract positions at apple and they were never more than what a FTE makes, usually $180k and you get worse benefits from the agency. Maybe it was org specific?" someone else said. 

Another said: "Still not layoff, contractors are meant to be short term. They know what they are getting into." 

This person said: "I know, the real layoffs will be later." 
... and it's only a matter of time before Apple trims the real fat. 
Loading...