---
"Recession Ahead" - UMich Consumer Sentiment Slides For First Time In 4 Months
The final print for the much-watched UMich inflation expectations was lower than the flash print for 1Y (down from 3.8 to 3.6%) while medium-term inflation exp rose from 2.8 to 2.9% intramonth...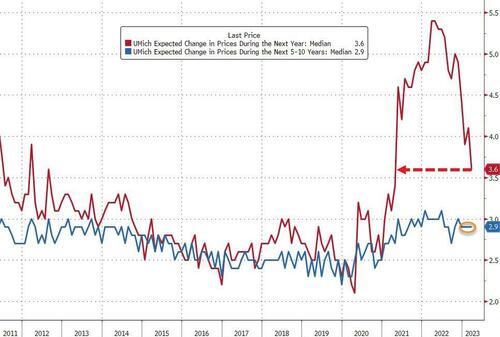 Source: Bloomberg
Having dipped in the flash March print, the final UMich headline sentiment index extended declines, with both current conditions and expectations both lower than the flash print. Consumer sentiment fell for the first time in four months, dropping about 8% below February but remaining 4% above a year ago.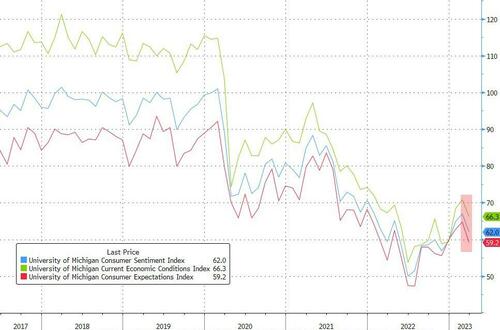 Source: Bloomberg
Surveys of Consumers Director Joanne Hsu noted that:
"This month's turmoil in the banking sector had limited impact on consumer sentiment, which was already exhibiting downward momentum prior to the collapse of Silicon Valley Bank."
Adding that:
"Overall, our data revealed multiple signs that consumers increasingly expect a recession ahead."
While sentiment fell across all demographic groups, the declines were sharpest for lower-income, less-educated, and younger consumers, as well as consumers with the top tercile of stock holdings.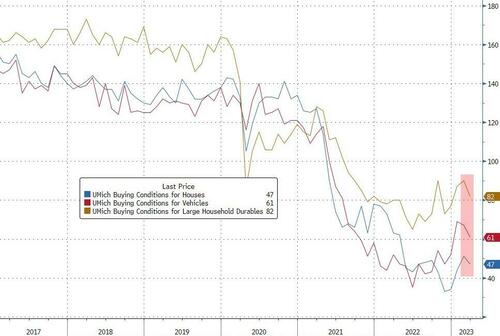 All five index components declined this month, led by a notably sharp weakening in one-year business conditions.
Loading...