---
Record Profit Expectations Are "Unsustainable"
By Michael Msika, Bloomberg Markets Live reporter and strategist
A better-than-feared earnings season and optimistic company guidance have prompted analysts to review their estimates and pushed European profit forecasts to a record high. That's left wary investors and strategists wondering just when weakness in corporate bottom lines will finally materialize.
The latest batch of results surprised positively, triggering a salvo of upgrades and pushing the 12-month blended forward EPS for the Stoxx 600 index to a record high and supporting the benchmark's 10% advance this year.
"Outstanding but unsustainable," is the verdict of Morgan Stanley strategists including Giorgio Magagnotti. The stream of stellar EPS beats just witnessed is unlikely to be replicated because momentum in European macro-economic data seems to be fading. The region now has the lowest economic surprise index globally, which points to weaker earnings ahead. Preliminary PMI numbers Tuesday may offer more clues of the economy's resilience.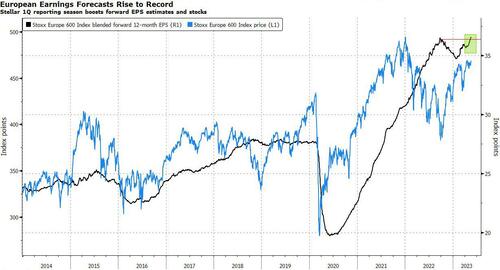 According to Morgan Stanley, there were 36% more EPS beats than misses this quarter, the fourth-highest success rate since they started compiling the data in 2007. Separately, earnings for the median stock came in 8.5% ahead of consensus.
European benchmarks spent the last month consolidating their year-to-date gains, but have started to resume their climb in recent days, despite some broad pessimism about the economy and bearishness from investors and strategists. Sell-side analysts are more upbeat, with their consensus forecast for the Stoxx 600 heading higher again as they predict the index will rise 15% in the next year.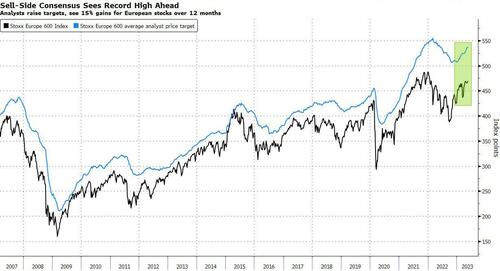 Share-price reaction to the earnings beats has been moderate and suggests caution among investors, despite a rare case where all sectors delivered stronger-than-expected profits, according to Bloomberg Intelligence  strategists Laurent Douillet and Kaidi Meng. They also warn of looming headwinds as companies' pricing power diminishes while higher costs persist.
Meanwhile, with stocks and earnings forecasts rising in concert, the forward P/E for the Stoxx 600 hasn't budged and is bang-on average. By contrast, more moderate earnings upgrades in the US have prompted some re-rating of valuations on the S&P 500, thereby widening the relative discount on European stocks. The Stoxx 600 is now 35% less expensive than its US counterpart.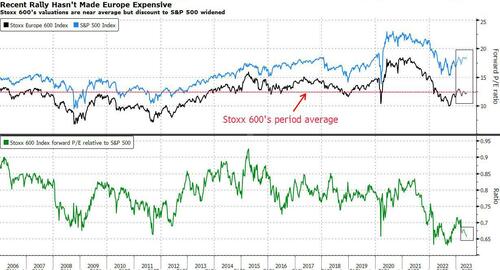 For Barclays strategist Emmanuel Cau, even if a lot of the positive catalysts have already played out for Europe, the region remains attractive on a relative basis.
"Europe has some value in terms of diversification," Cau says. "What we've been writing about is what seems to be a very polarized US equity market with a narrow leadership. Only 30% of the stocks have outperformed in the US and look quite stretched and expensive. Europe, on the other hand has a broader leadership, more diversified sector composition and better valuations."
Loading...