---
Record Russell 2K Covering
When debt ceiling talks turned a corner two weeks ago, Russell 2k led US equity indices higher, if only for  few days. From May 16th - 23rd, Russell 2k jumped 3%, eclipsing S&P (+0.9%) and Nasdaq (+1.8%). As we had discussed previously, the Russell arguably appeared the most vulnerable in a political crisis, given the 2011 analogue and typical large growth shocks. Thus, outperformance alongside advancements in Republican - Democrat negotiations was reasonable.
Meanwhile, as Goldman trader Robert Quinn points out, Commitment of Traders data, covering this period, revealed decent Non-Dealer futures buying due to record short covering. Over the 5 sessions, Non-Dealers net purchased $3.1bn of Russell 2k futures. Shorts plummeted a significant $4.1bn. This marked the largest amount outside of an expiry week for at least the past 5 years.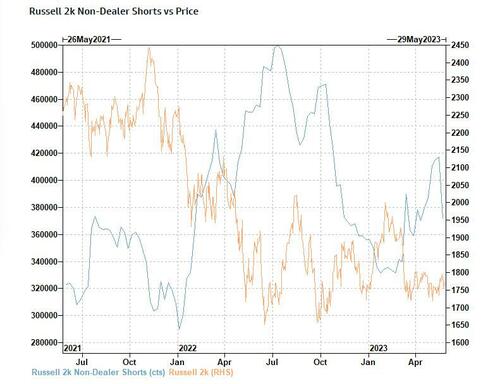 By category, Asset Manager dominated (+$2.7bn); longs gained $570mm and shorts declined $2.1bn.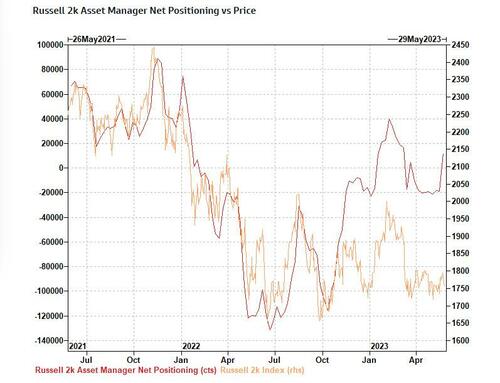 Hedge Fund net bought $300mm with large unwinds in both longs (-$1.8bn) and shorts (-$2.1bn). Other and Non-Reportable changes were trivial.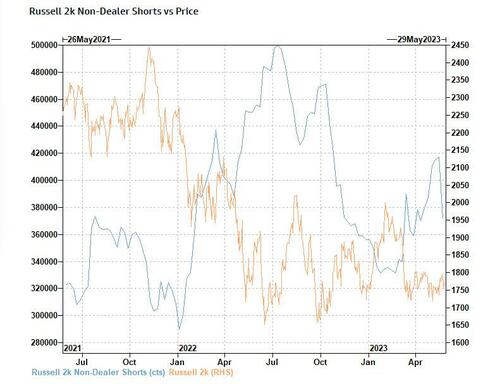 As a result of this record short covering, funding levels richened. Russell 2k 3-month funding versus Fed Funds bounced 12bps, closing its discount to S&P 500 by 5bps.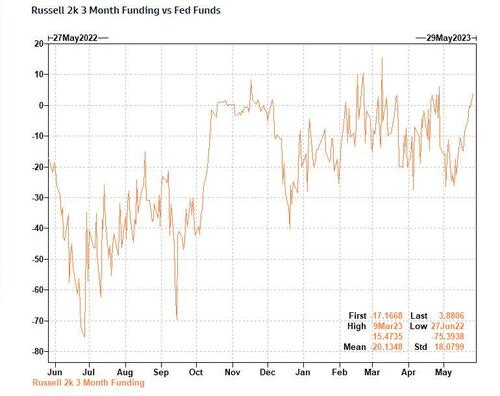 Notably, option activity did not provide a boost. During the time frame, normalized 25 delta put-call skew marginally increased.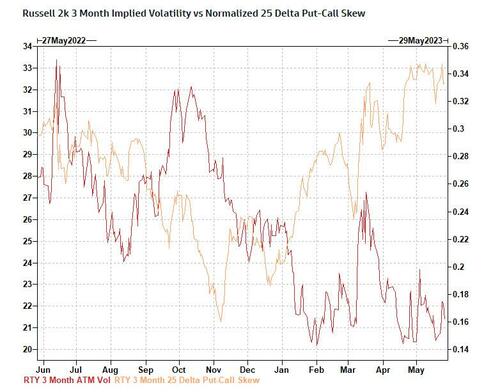 Subsequently, AI mania prompted some reverse rotation out of small caps and back into tech. After impressive earnings from Nvidia and Marvell, Nasdaq recaptured prominence at the expense of Russell. From May 23rd - 26th, the former finished +4.6% versus the latter -0.8%.
But, as Goldman notes over the weekend, the underlying bid for Russell 2k via leveraged products has persisted. Funding richened an additional 4bps in the past 3 days. That being said, S&P levels were relatively stronger. Option flows potentially contributed; skew retraced. And futures aggregate open interest finished +$280mm. Therefore Russell 2k potentially benefited from general leveraged demand for US equities. And downside reduction no longer served as the overriding shift.
Loading...