---
Record Wall Street Euphoria Is About To Trigger First BofA "Sell Signal" Since 2008
First it was Citi, then Goldman. Now, it's Bank of America's turn to warn that the market's excess euphoria is about to cause some pain.
In a note from BofA's Savita Subramanian, the equity strategist echoed the warning from Citi and Goldman, and said that "sentiment and valuations are becoming euphoric. Our sentiment indicator is now closest to the "Sell" signal since the GFC." And yet, despite the bank's "more cautious view", BofA refuses to tell its clients to sell - after all this market refuses to ever go down - and says that "we are bullish on certain areas of the market: cyclicals/Value and small caps."
Some more details: according to Subramanian, after the 16% gain in 2020, a year that sent tens of millions to the unemployed rolls, stocks now trade at 22.5x earnings, largely in line with the August peak level (22.7x), which is despite a ~40bps jump in the 10-year yield.
So big the overvaluation that according to BofA's 20 valuation metrics, th market is now overvalued according to 18 out of 20 (and very overvalued according to 15 of 20).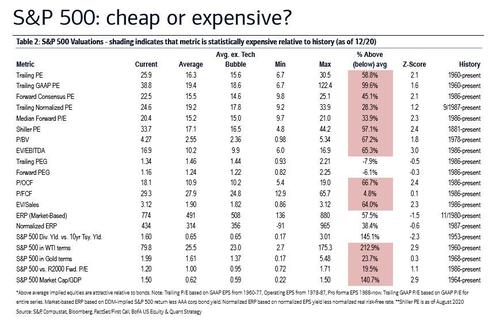 The punchline: with sentiment getting more euphoric by the day (and according to Citi it is now off the chart)..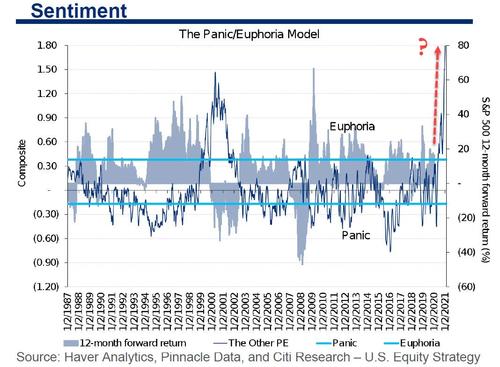 ... BofA's proprietary Sell Side Indicator - a contrarian sentiment model - "is at the closest level to the "Sell" threshold since the financial crisis."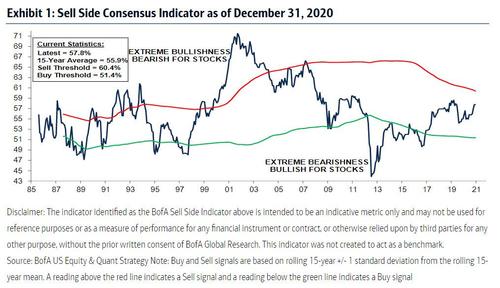 So does that mean it's time to sell? Well no, because every time in the past 12 years that banks called for a selloff central banks stepped in and ripped everything higher, and this time won't be any different. This is what BofA's Jared Woodard said about timing markets based on bearish market signals:
Bearish market signals are famously harder to trade than bullish ones: a market trough is an event while a market top is a process.
Which, of course, is just a euphemism for yes, stocks can fall... but BTFD, as Woodard explained first:
We suggest investors treat any Q1 market correction caused by disappointment around the vaccine rollout, economic reopening, or progress on fiscal investment as a buying opportunity.
... and Subramanian agreed, albeit far more delicately:
"Stocks still look more attractive to bonds (albeit less so than before), but valuations suggest equity returns are likely to be sub-average (~5%) over the next decade. Despite our more cautious view, we are bullish on certain areas of the market, including cyclicals/Value and small caps."