---
Rehired Workers Get Axed As States Pause Or Reverse Reopening
Wall Street opened higher on Wednesday as optimism flourished following a positive COVID-19 vaccine headline (one of many we've seen in the last several months). It appears the hope and hype of vaccine headlines and President Trump's pumping of a V-shaped economic recovery could be in the latter innings as confirmed cases surged across the country as governors are pausing reopenings. 
On Tuesday, more than 48,000 confirmed virus cases were reported across the US. Most of the cases were centered in these states - Arizona, California, Georgia, Idaho, Oklahoma, South Carolina, and Texas. 
Dr. Anthony Fauci told Congress on Tuesday that confirmed virus cases could spike to 100,000 - now resulting in some states to press the pause button or even reversing reopenings.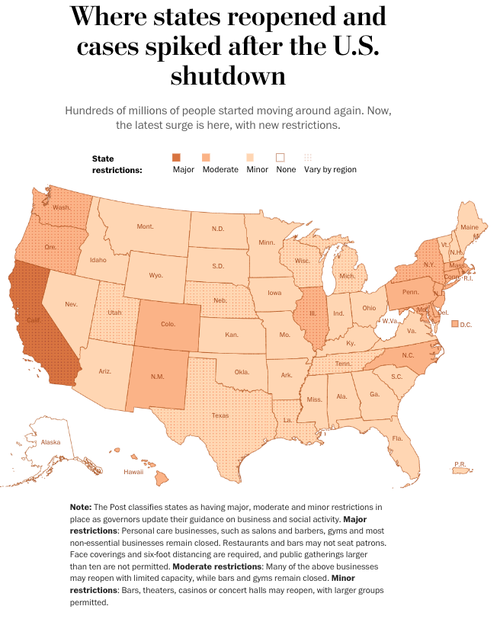 Many of the states pausing or reversing reopenings are across the Sun Belt region. The emergence of the virus is due to Memorial Day parties. 
Bloomberg notes reversing of planned reopenings could spark the next wave of layoffs, adding that newly hired workers are getting the ax once again. 
Jeffrey Bank, who heads Alicart Restaurant Group, was in the process of reopening his restaurant based inside the Tropicana casino in Atlantic City last week but was greeted by new communication from Governor Phil Murphy that a delayed restart of indoor dining will be seen due to a recent surge in virus cases. 
Bank said he'll lose $100,000 on the false restart and will layoff 100 people whom he'd just recently rehired.
The surge in cases could derail nationwide reopenings - along with President Trump's economic V-shaped recovery that he routinely touts on Twitter. Data this week shows Florida's Miami-Dade County reported its highest numbers of hospitalizations and Houston, intensive-care units soared to 97% of capacity. 
In recent days, Arizona, Florida, Colorado, and Texas closed bars and nightclubs to contain the spread - while Arizona shutdown gyms, water parks, and movie theaters. 
Bahram Akradi, a gym owner in Arizona, said he was furious when the governor's office told him his facilities had to close for a second time.
"No grocery store has taken our measures," Akradi said. "No Home Depot has taken our measures. No business has taken the measures we have."
Ron Smith owns 13 McDonald's stores in the Las Vegas area, said his dining rooms are closing again due to the emergence of the virus. 
"We were incorrect, meaning the country," he said, on opening up certain areas this spring. "It's disappointing," said Smith. 
He was not hopeful about reopening dining rooms until the spring of 2021. 
It seems a lot of the progress made during the initial lockdowns to flatten the curve are reversing: Lakeland, a Florida city, east of Tampa, has about a dozen restaurants and six bars that fear lockdowns are imminent. 
Jack McHugh, a manger of Lakeland's mainstays, Molly McHugh's Irish pub, worries that curfews are coming to the downtown district. 
Bloomberg notes that in states where virus cases are surging, the economy is starting to relapse as consumption plunges. 
Customer transactions at major restaurant chains had been increasing in recent weeks, even if they were still down when compared with last year. However, that momentum reversed itself in the week ended June 21 after infections rose in much of the South and West, according to market researcher NPD Group.

In Arizona, transactions at major chains had roared back and were down only 1% in mid-June from a year ago, but now they're down 7%, NPD data show. Transactions slipped by five percentage points in both North Carolina and Nevada. - Bloomberg
Teddy Vallee, CIO of Pervalle Global, a global macro research fund, tweeted a chart of confirmed virus cases rising in California, Texas, Florida, Georgia, and Arizona, and said these states equate to 34% of US GDP.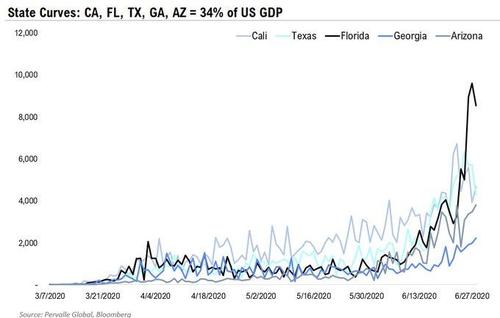 Goldman Sachs provides some more color via its state-level coronavirus tracker that calculates 40% of the US has now reversed or placed reopening on hold.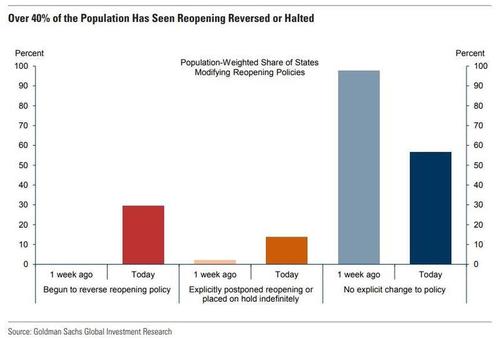 The economic recovery of the US is rapidly changing before our eyes - the overhyped "V" is now transforming to a "U" or "L" or even a Nike Swoosh.