---
Remote Work Is "Bulls**t", Says CRE Billionaire Sam Zell
Real estate mogul Sam Zell told an audience of New York University graduate students that remote work is a "bunch of bullshit" and they should dismiss the idea of working from home, according to commercial real estate news website GlobeSt.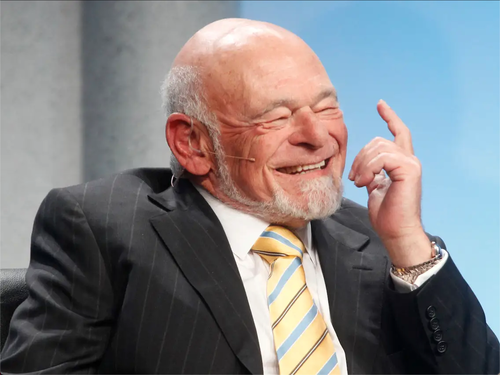 "One of the biggest lies in the world is that people working from home are more productive than people working in the office," Zell told the audience at NYU SPS Schack Institute of Real Estate's annual REIT Symposium, held at NYC's Pierre Hotel on Fifth Avenue, on Wednesday. 
"You have much less productivity if you're working from home in your pajamas with three little kids running around than if you're in an office," he continued. 
When asked about the current state of the office market and the impact of work, Zell provided this answer: 
"I wouldn't want to be an owner of a lot of Class B offices right now." 
The billionaire made it clear that remote work trends are temporary: 
 "On the first day of Covid, nobody was in our office. Six months later, everyone was in our office—and they have been for over two years." 
He said many professional skills critical for young people are developed in office environments, and working from home stymies that. 
"There's an enormous difference between a Zoom board meeting and a meeting in person.

"A Zoom board meeting is a board meeting where everyone sits and listens to recitations. An in-person meeting is where the real discussion takes place."
Zell's view on remote work is biased, considering he's made much of his fortune in the CRE space, and remote work has led to rising vacancy rates and sliding property value.
The gold-standard measure of office occupancy trends is the card-swipe data provided by Kastle Systems. The average office occupancy nationwide is around 46%, still well off the highs from pre-pandemic levels.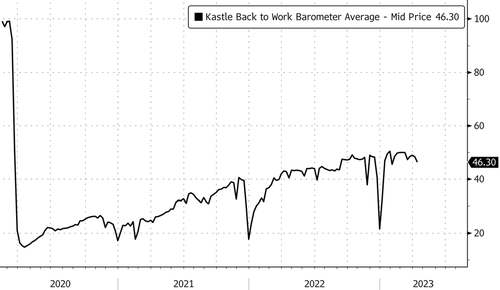 We have cited the regional bank turmoil as likely going to have spillover effects in the CRE space -- especially the office sector. JPM, Morgan Stanley, and Goldman Sachs have all joined the gloom parade, warning about impending CRE turmoil.  
Loading...