---
'Remote Work Has Run Amok' - Private-Jet-Setting Goldman CEO Travels As Bank Unravels
In what appears yet another case of "do as I say, not as I do", Goldman Sachs CEO has sparked a barrage of abuse and perhaps more notably, a hit-piece by Bloomberg.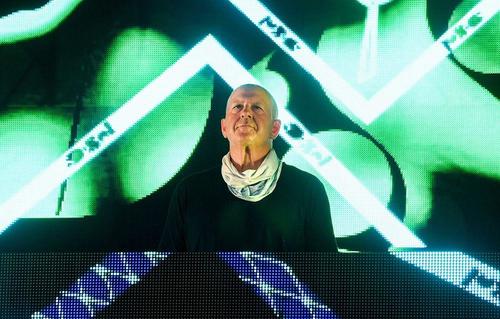 As we have recently detailed, starting with the exit of the head of their consumer bank 'Marcus', senior executives at Goldman Sachs have been abandoning ship en masse.
At the time we remarked, we couldn't help but wonder if there is much more turbulence below the Goldman surface than the bank's impressive recent earnings would suggest, and, if Bloomberg's sources are to be believed, while profits are soaring, CEO David Solomon's leadership style is sparking widespread angst among staff.
Just this week, Solomon publicly blasted "working from home" as an "aberration" that needs to be fixed, and informed staff during an all-hands Zoom call on Friday that the bank's thousands of workers, who have mostly been working from home, will be back in offices by the summer.
"This is not ideal for us and it's not a new normal," he said. "It's an aberration that we are going to correct as quickly as possible."
But, as Bloomberg reports in a surprisingly blunt report, interviews with two dozen current and former senior executives found veterans are frustrated. As subordinates contend with the rigors of pandemic life, the boss has risked appearing out of touch - pressing deputies to join him at the office but also toggling to the Hamptons and taking the company-owned aircraft for frequent getaways.
Behind the scenes, the use of the jets has been a source of consternation within the firm's upper rungs.
"It certainly looks terrible," said Nell Minow, who advises institutional investors on corporate governance issues as vice chair at ValueEdge Advisors. "There is a Marie Antoinette aspect to it."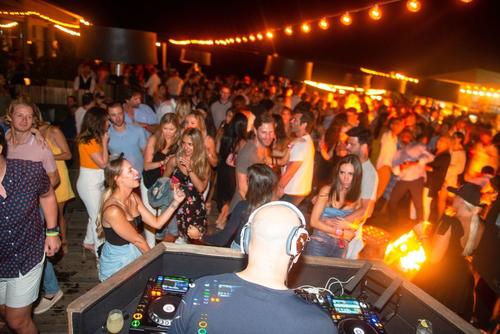 The bank quickly defended Solomon's travels:
"When he's away for a weekend, David continues to work, pays for his travel, follows Covid protocols and is back in the office first thing on a Monday morning," said Siewert, a company spokesperson.
However, it is Bloomberg's account of Solomon's encounter with a junior banker in the Hamptons that is sure to spark furore:
The Goldman Sachs boss has told lieutenants how the underling walked up at a restaurant, introduced himself and pointed to associates with him - in the middle of a workday.

The tale has become the CEO's go-to anecdote when he vents about his mostly-empty offices: proof that remote work has run amok.

Some who've heard the story note the apparent disconnect.

The boss is perturbed by bumping into staff while he himself was spending extended summer weekends in the Hamptons at a luxe seaside rental.

Solomon's time there even made national news after he deejayed a concert where attendees flouted social-distancing guidelines, leaving New York state officials fuming.
Solomon's blunt style reportedly irks colleagues. He's known to make haranguing phone calls to senior executives when he's upset over missed business or management moves. Some say the calls sting more than those of his predecessor, Blankfein, who wrapped criticisms in quips.
However, amid al this internal strife, externally the bank has hardly been stronger with revenues surging 12% during the pandemic (as expenses were held flat).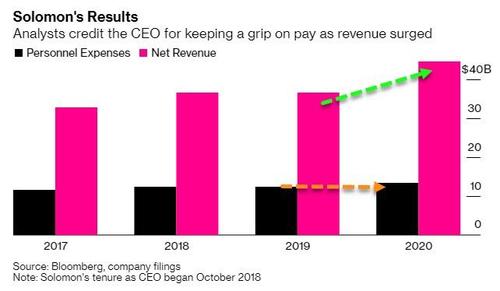 But, almost perfectly summarizing the tension under the surface, Bloomberg concludes that as Solomon proudly crowed of his firm's achievements, and amid the exodus of senior staff, "the CEO stepped on to the company's G-VI on its way to the Caribbean to celebrate his 59th birthday at an exclusive enclave, surrounded by family, associates and the Barbuda oceanfront's blush-pink sands."
We have two questions: Did Mike sign off on this report by Bloomberg? And how many terminals will Goldman cancel after this?