---
Restaurants Face Unappetizing Slowdown As Consumers Buckle Amid Two-Year Inflation Storm
Two years of negative real wage growth, depleted savings, mounting credit card debt, and soaring interest rate payments put pressure on consumers' wallets. This might lead to some consumers trading down to cheaper quick-serve restaurants, ditching casual-dining chains in the second half of this year, according to a new report. 
Bloomberg Intelligence's Michael Halen penned a new note titled "2H Restaurant Sales: Inflation Killing Appetites." It outlines, "Consumer spending finally buckles under more than two years of inflation and price hikes," and the likely result is a trade-down of casual-dining chains like Brinker and Cheesecake Factory for quick-service chains like McDonald's and Wendy's.
The trade-down, which could start as early as this summer, is expected to dent consumer spending in restaurants such as Cheesecake Factory, Texas Roadhouse, and at brands operated by Brinker and Darden, Halen said. 
Casual-dining industry same-store sales rose just 0.9% in May, according to Black Box Intelligence, as traffic dropped 5.4%. We expect cash-strapped low- and middle-income diners to cut restaurant visits and checks through year-end due to more than two years of real income declines and ballooning credit-card balances.
Halen provides more details about quick-service restaurants to fare better than causal-dining ones as "consumer spending finally buckles." 
Quick-service restaurants' same-store sales could moderate with consumer spending in 2H but should fare better than their full-service competitors. Results rose 2.9% in May, according to Black Box data, as a 5% average-check increase was partly offset by a 2% guest-count decline. Check- driven comp-store sales gains are unsustainable, and we think inflation and menu price hikes will motivate low- and middle-income diners to reduce restaurant visits and manage their spending in 2H. On Domino's 1Q earnings call, management said lower-income consumers shifted delivery occasions to cooking at home. Still, a trade-down from full-service dining due to cheaper price points may cushion the blow.

McDonald's, Burger King, Wendy's, and Jack in the Box are among the quick-service chains in Black Box's index.
The latest inflation data shows consumers have endured the 26th straight month of negative real wage growth. What this means is that inflation is outpacing wage gains. And bad news for household finances, hence why many have resorted to record credit card usage.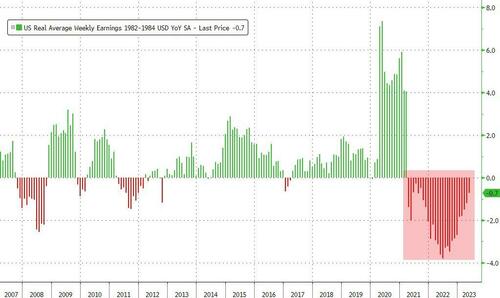 And the personal savings rate has collapsed to just 4.4%, its lowest level since Sept. 2008 (the dark days of Lehman). And why is this? To afford shelter, gas, and food, consumers are drawing from emergency funds due to the worst inflation storm in a generation.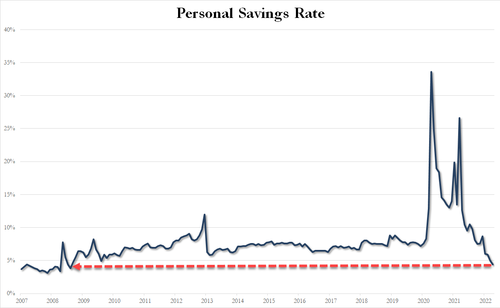 As revolving consumer credit has exploded higher and the last two months have seen a near-record increase...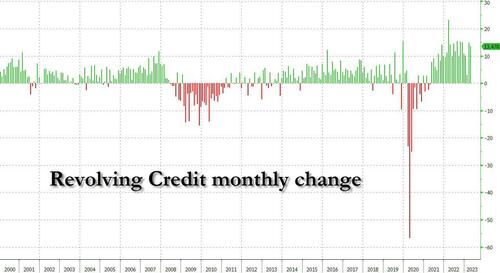 ... even as the interest rate on credit cards has jumped to the highest on record.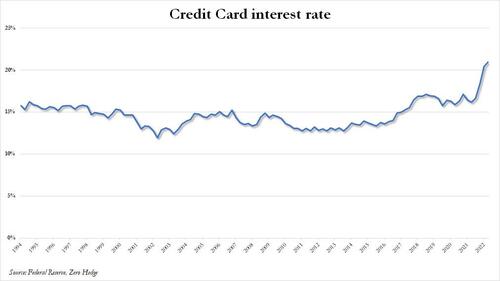 With record credit card debt load and highest interest payments in years, plus depleted savings, oh yeah, and we forgot, the restart of student loan payments later this year, this all may signal a consumer spending slowdown at causal diners while many trade down for McDonald's value menu. Even then, we've reported consumers have shown that menu items at the fast-food chain have become too expensive. 
So where do consumers trade down from McDonald's? Well, we've got that answer here: "Dollar Tree Dinners": TikToker Goes Viral After Showing People How To Cook For $35 A Week. 
Loading...