---
Retail Rents In Manhattan Plunge The Most In Five Years 
Before the pandemic, fast-casual restaurants and shops were plentiful in Midtown Manhattan as workers lined office buildings. About 19 months later, hybrid working has taken over, and the need to visit the office has either been eliminated or dramatically reduced. With declining foot traffic, retailers are rethinking their need for stores in the borough, leading to an abundance of supply and plunging rents. 
According to commercial real estate firm Jones Lang LaSalle (JJL), average asking rents across all major Manhattan shopping districts, including Fifth Avenue, Times Square, and Madison Avenue, plunged 12% in the third quarter versus the same period last year.  
JJL said the drop in retail rents last quarter was the largest in five years. Herald Square, a major commercial intersection in the borough, recorded the most significant decline in rents for the quarter, down 27%. Madison Avenue's rents were down 23%, while Fifth Avenue, between 42nd and 49th streets rents, fell 11%.
SoHo had the largest share of new leases, but space availability remains elevated, at almost 35%, with apparel retailers struggling the most.
Tenants still have the upper hand and will continue to well into 2022 as supply remains abundant. New leases are coming with more perks, such as free rent for a couple of months and allowances for store improvements.
In a separate report earlier this month, the Real Estate Board of New York showed 30% of 311 storefronts in retail areas around Midtown East and Grand Central were vacant, which is more than double the historical rate.
Kastle Systems, whose electronic access systems secure thousands of office buildings across NYC, released new data that shows only 31% of workers were back at their desks in late October. Not much of an improvement over the last 19 months.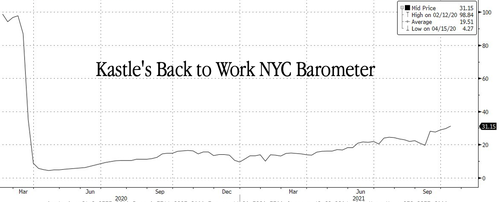 The enormous glut of commercial restate, such as storefronts and office space, along with plunging rents in the borough could be a boon for Daniel McNamara, whose fund at MP Securitized Credit Partners profited handsomely during the early days of the pandemic by shorting a commercial mortgage-bond credit derivatives index with exposure to shopping malls (which at the time we called the "Big Short 2.0"), has now formed a new long/short hedge fund centered on the CMBS market. 
Maybe McNamara and his team should take a look at the video below that shows empty storefronts across the borough for his next thesis of why CMBS might tank again.