---
Retail Sales & Producer Prices Drop In Feb
With CPI having slapped some macro-sense back into people's minds after a week focused on SVB's fallout, this morning's PPI and Retail Sales data could further that trend - despite Credit Suisse grabbing everyone's attention today so far.
Producer Prices unexpectedly soared in January and analysts expected February data to show a slowdown in acceleration of prices. It did dramatically, dropping 0.1% MoM (+0.3% MoM exp) to its lowest YoY since March 2021...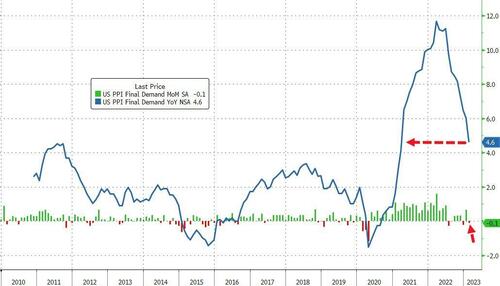 Source: Bloomberg
The pipeline for PPI is also now dragging the headline even lower...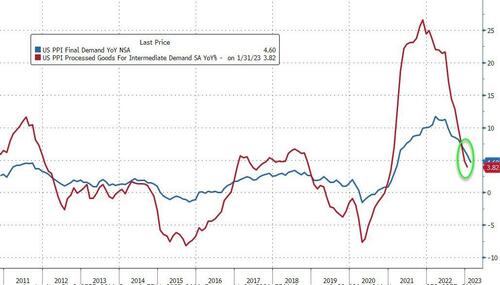 Source: Bloomberg
Who could have seen that coming?
There is now less pipeline inflation than final; next 2-3 months PPI will accelerate to downside pic.twitter.com/t8C01boDGv

— zerohedge (@zerohedge) February 16, 2023
And PPI is now leading CPI lower...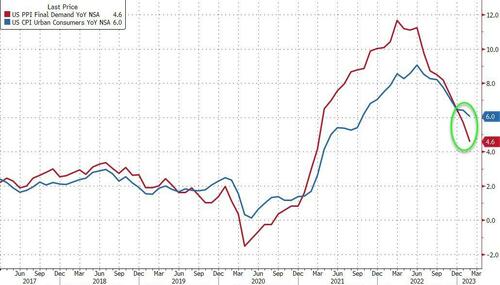 Source: Bloomberg
With price rises slowing, retail sales (measured nominally) were expected to shrink in February and they did, down 0.4% MoM as expected...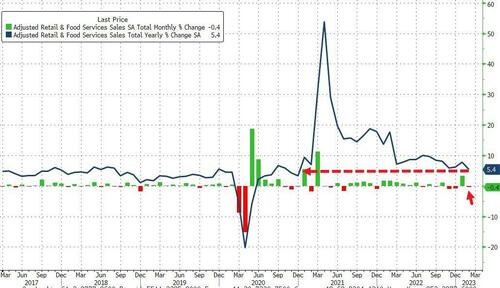 Source: Bloomberg
That is the lowest YoY rise in retail sales since Dec 2020...
Verdict: January's spending spree was a one-time outlier

"The latest BAC card spending data suggest that the acceleration in consumer spending might have been more short-lived than we were expecting. Card spending per household slowed to 1.3% y/y in the week ending Feb 25" - BAC pic.twitter.com/MPyyV89lWD

— zerohedge (@zerohedge) March 3, 2023
 Excluding gasoline and autos, retail sales were flat.
Nine out of 13 retail categories fell last month, led by furniture and restaurants.
The report showed vehicle sales declined 1.8% in February. The value of sales at gasoline stations decreased 0.6%, likely reflecting lower prices in the month.
It looks like the 'lag' from monetary policy is catching us up.
Loading...